Who knew that a pencil sharpener could be so divisive? Well, I suppose pencil nerds who like the chewy look a Classroom Friendly sharpener gives fancy pencils might suspect that the Pollux could upset and excite folks.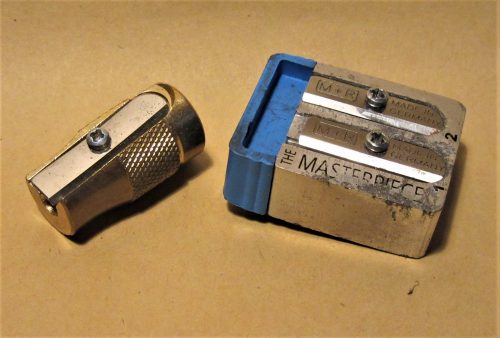 Let me start with the basics. The Pollux is a hand held sharpener that creates an concave point in much like the vintage Janus sharpener or a modern crank sharpener. Good luck finding a Janus with a working blade. The Pollux is machined from a solid block of brass and the design is reminiscent of M+R's Grenade or Brass Bullet sharpener, but longer. The Pollux was teased for months and months before it finally became available, when it was finally available it wasn't offered with replacement blades. Replacement blades weren't available until at least a month. Many of the initial run of sharpeners had dull blades that caused issues with sharpening.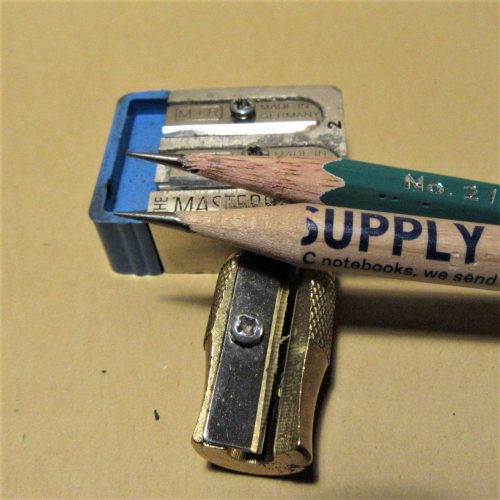 Once you got a sharpener with a working blade, the point the produced is long and concave. It is very similar to the Classroom Friendly point and slightly longer than that produced by the KUM Masterpiece. This is where the Pollux incites heated pencil nerdy debate. Unlike the Classroom Friendly and Masterpiece, which will sharpen any standard sized pencil to delightfully long points, the Pollux won't. The Pollux is finicky and hates certain pencils. The Tombow 2558, my Nataraj Metallics, and harder graded pencils shatter and are devoured by the Pollux. The same pencil in the Classroom Friendly will sharpen perfectly. You could sharpen the same pencil to a nub in the Pollux and never get a point. The Pollux can be frustrating.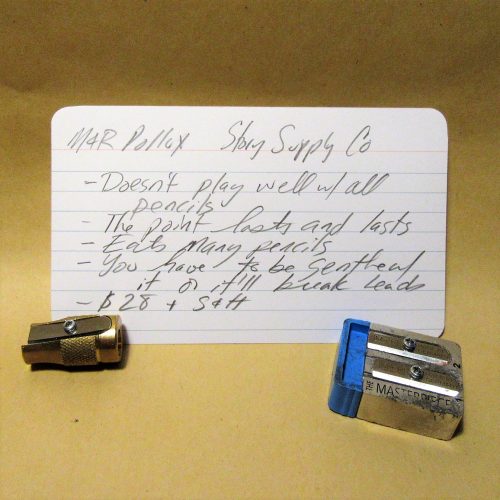 Another thing is, the Pollux requires a sharp blade for it to work well. Once the blade gets dull it will snap the point off every time. It also requires a light touch. If you jam your pencil into the Pollux, oh hey, snapped point. If you wiggle the pencil around, look a snapped point. Annoying.
If you stick to premium pencils- Uni NanoDia, Blackwings, and Helvetica you'll never have a problem. Or if you stick to pencils with a silky smooth core that lacks grit you'll be happy. The Tombow 2558 seems to be an odd duck when it comes to sharpening. My favorite budget pencils- Staedtler Norica and Pen+Gear/ Casemates Clown Car and Patterned pencil all do well in the Pollux.
Another factor to consider is the expense. The cheapest price available is $28 from CWPE. Replacement blade are $8, for a 3-pack. To get properly set up the Pollux will cost $36. Which is a ridiculously expensive price for a pencil sharpener. Compare that to the Masterpiece, which now retails for $18 and is bundled with 2 replacement blades and produces a point that is nearly as long.
I'm torn about the Pollux, and I do love it, but the fact that it will just DEVOUR some of my pencils irritates the crap out of me. Because of this I keep my KUM masterpiece handy and forces me to alternate my sharpener carry based off the pencils I'm using that day. This tempers my love. That said, I reach for it over and over again. I'm more likely to put my Blackwings and nicer soft core pencils through it for that long lasting concave point. When it works, it is perfect when it doesn't you want to lob it across a field and then set the field on fire.
I was gifted my Pollux from good friend Dee of The Weekly Pencil and co-host of RSVP. No affiliate links this week, just links to CWPE because they have the best price I've found.