The Pilot Kakuno is a student's or beginner's fountain pen, with a focus on children. As such it is available in a wide variety of colors with standard fine and medium nibs generally available here in the US. Along with that, Pilot has chosen to only import some of the colors available to the US market. My Kakuno is an import clear version and has an extra fine nib. The shiny steel nib has a cute smiley face with tongue out on the top.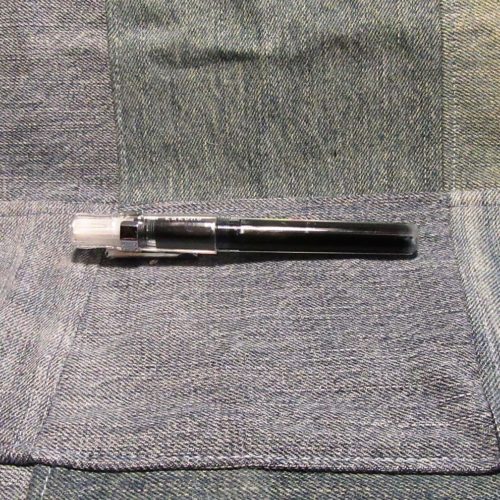 The EF nib is made of steel and with a small amount of smoothing is silky smooth on good paper. It skates across my Baron Fig Confidant as I create my Work Bible* I also find it quite nice in my pocket notebooks from Field Notes to Write to Lodestone. It also feels pretty decent on the crappy paper at work. Despite the nice feeling of the nib on the various paper, the papers all respond to the ink as one would expect for that brand. The EF nib is needle thin with a hint of bounce which is nice. It doesn't create much variation in the line but it feels good as I'm writing.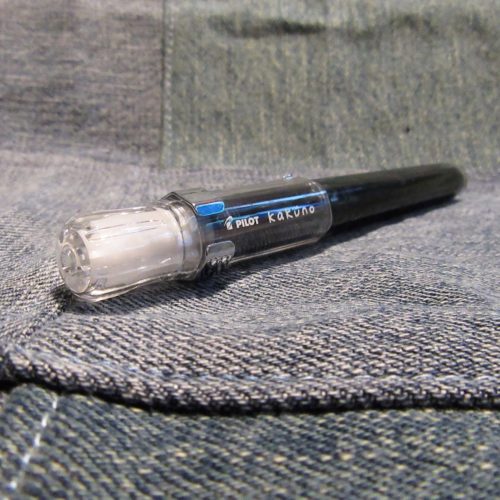 The grip section is subtly triangular shaped while the rest of the pen is hex shaped. The clear plastic is extremely light weight. Empty it comes in at 11.3g. With a cart it comes in at 12.5g. It's not a big pen but it isn't tiny either. The body of the pen is roughly the same size as a Lamy Safari but the cap is slightly smaller. It can be used unposted comfortably or posted without the weight being thrown off. I really like the weight and size of the pen- I can write for long periods without hand fatigue that I get from heavier pens. The Kakuno is great for long writing periods.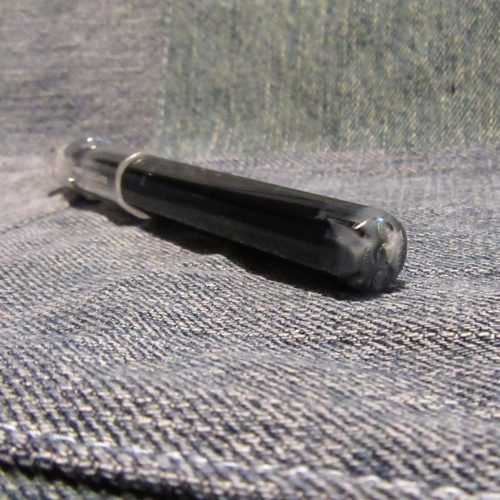 Because the pen is hexagonal and roughly the same diameter as a Kaweco Sport I wondered if the Kaweco clip would fit. I ordered one of the older style, plain clips rather than one that has the Kaweco logo emblazoned on the clip. I chose silver so it would match the steel nib. The facets don't match perfectly but it is snug on the cap. It is a functional addition to the pen, as I need a clip for my DayJob.
IN the several week's I've been using this pen it has survived being clipped to the plackets of my work shirts and being tossed into the pockets of my work pants. The snap on cap stays put and has yet to fall off. The plastic of the pen body has not yet cracks or shown any wear. Despite banging around in my pocket with my wallet, pencil sharpeners and can tabs (don't ask) the pen hasn't developed any scratches as of yet.

Despite it being an EF pen the ink flow is good and you get a decent amount of ink on the page. This is both good and bad. Like with the gel pens I've written about this means I'm blowing through ink carts very quickly. I've been using at least one a week, more often nearly 2. Certainly this can add up in cost it accumulates more frustration for me in terms of plastic waste. I prefer to use a converter but it is not realistic that I refill from a bottle at work. A cartridge I can swap on the fly as I work. I've taken to refilling my carts. I'm also looking at filling the holes on the back of the pen body so I can convert to eyedropper.**
Anyway, the Kakuno with an EF nib is great for crappy paper and even better on nice paper. The price for the opaque colors is about $11.75 while the clear is around $12.50 on JetPen. I really like it for my workplace The smiley face puts a smile on some of my client's faces and can insert some levity into an otherwise difficult situation. It works great on crappy paper and feels good in hand. For the $12.50, the Kakuno is a great little pen.

*For each job I have had I create a notebook full of  important information that acts as a reference. I've been able to flip through the notebook and find all my needed info quickly and efficiently. I will likely do a full post on this at some point.
**I spent a half hour searching for the blog with the converting a Kakuno to eyedropper with epoxy post and couldn't find it. Otherwise it would be linked here. I used E600 squeezed into the tiny holes in the back of the pen, wiped off the excess and let it dry I'll report back on it working or not. It is the same way I converted my Lamy Safari so I don't see why it won't.
I picked up this pen in a trade with Gary from garyvarner.com I sent him a selection of pencils and notebooks (that I either made or bought) and he sent me the Kakuno. I love trading with folks as it is a great way for me to work through my SABLE stash and try out dome new things.