This year my local Walmart was less of a mess than usual. Their Back to School display was downright organized. Color me shocked, every year until now it's been an awful mess. This year we have four Pen+Gear offerings and an Exceed; an added bonus is a "junior" sized composition book from Pen+Gear.
Let's start with the P+G Fashion Poly covered book. This costs 64 cents and sports 80 sheets. This poly cover is thin and floppy, the worst of the worst when it comes to poly covers. The front is printed with rainbow foil words. There were quite a few designs available, I just liked the rainbow* foil. The cover is scored at the front and back but not enough to make the cover easy to fold. The printing is great, very well done. The spine tape is metallic and smooth. I'm not a fan of smooth spine tapes. They feel meh to me. The stitching is nicely done, very tight and even.
The paper is college ruled and smooth to the touch. Gel and liquid ink pens. Fountain pens were surprisingly nice on this paper. No bleed and little to no show through. I was rather surprised. The paper would be better for pencil with a bit more tooth, but it's not bad at all. Soft dark pencils are a joy on this paper and hold a point really well.
The standard poly covered P+G composition notebook is even better. At 50 cents for 80 pages it's a good choice for affordability. The cover sports all the same issues as the fashion poly cover- floppy, no scoring, doesn't stay flat well, and is plastic.
The paper is slightly different. It's smooth and great for gel and liquid ink. Fountain pens are lovely on this paper. There's no bleed or show through and it was just a joy to use. It seems to have a bit more tooth than the fashion version, pencils were better on this paper.
If you were looking for a good all around composition notebook the standard single color poly covered P+G would be a great choice.
When it comes to card covered P+G composition notebooks we have 2 choices made in the USA or made in Colombia. They are drastically different.
Let's start with the Made in Colombia. This has a standard black marble cover, a decently sized and textures spine tape, neat tight stitching and 100 pages. They sell for 50 cents. This looks to be old stock. I should have looked at the labeling. This one is marked 2018. Damn.
The 100 pages are smooth and toothy. It's great with pencil and gel ink. I liked the feel of pencil on this paper. Gel ink is nice. Fountain pens and liquid ink pens feel good but feather all over the place. There isn't any bleed or show through.
Note bad, not great.
The made in the USA version is 50 cents for 100 pages. The cover is thin card that is not overly floppy but not what I would call stiff either. The cover is just one color and is available in a wide range of colors. The spine tape is black and smooth. The stitching is tight and even.
The 100 pages feel rougher than any others available. This might be the perfect composition notebook for pencil. The level of tooth on this paper is perfect. My HB pencils look great on this paper. Gel ink does well. Liquid ink is awful. Fountain pens feel okay but the minute the nib hits the page it starts to spread and feather and bleed and soak through. It soaked so badly the ink spread through to the next page. It's atrocious.
If you are only going to use pencil, ballpoint, and gel ink, this is okay. But gosh don't put liquid ink near this, unless you want to see how is feathers.
A bonus is the P+G "Junior" composition notebook, measuring 5×7 inches. It's made in India and sports 80 perforated college ruled pages.The poly cover is even thinner and more floppy than other notebook I've reviewed. The size doesn't seem to follow the compostion book size. It just seems a bit off in measurements. The spine tape is nicely sized and textured. The stitching is tight and even.
The paper feels smooth. I wasn't expecting much here. But it's nice. It performs as well as the larger version. Pencil feels good. Gel inks look good. Liquid inks are stunning. My fountain pens glide and don't bleed or feather. There's little show through. At 67 cents it's a bit more expensive, but not bad for a pad of paper.
Finally, we have the Exceed poly covered composition notebook. Previous versions of this made in the USA were awful. At $1.47 it's not the cheapest of the bunch but not the most expensive either. It has 80 college ruled pages.
The poly cover is not as floppy as other poly covers. The tape is narrow and smooth. The poly is scored in several places to facilitate easier folding and it does help. The issue then becomes that the book does not close as well as it did before it was folded. The stitching is tight and even. The corners are not rounded well at all.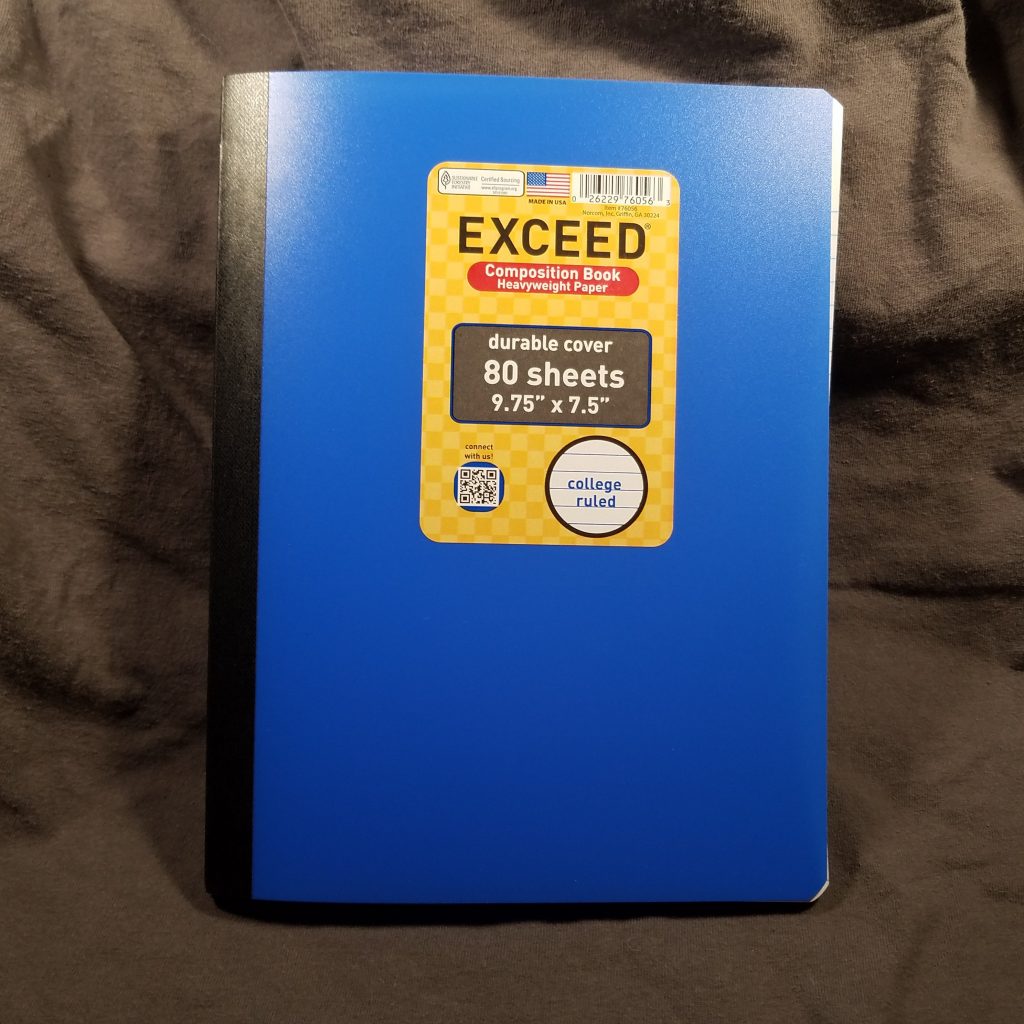 The paper feels smoother than the previous version. It feels good with gel ink and quite shockingly, with fountain pen and other liquid inks. There was no feathering or bleed. Given the previous years awfulness with liquid inks I am shocked. Pencils felt amazing on here too. The tooth level is great and HB and softer pencils feel good and look good too.
I'm sad that the new versions of the P+G card covered books are not great unless you plan to use only pencil. Sadly my best recommendation is to get the poly comp books from Walmart. At 50 cents and 80 pages they are the best value. Though the Exceed are also pretty great and have 100 pages.
A big note about what is now available in my local Walmart. Studio C is completely gone from the shelves. I even went to check the office and school supply aisle, nothing. Also of note is that Norcom's made in the USA composition notebooks are absent. Not a single one on the shelf. Interestingly the made in the USA P+G feel a lot like the old Norcom comps.