I'm not gonna lie, if these had been available when I was a teenager my heart would have exploded. A Rotring with a sliding pipe? At $4.99 a 4-pack? Yes please. Sure they are bright jewel-like colors but, still Rotrings!
I will also admit that my adult heart had an increase in heart rate as I gazed at these with love. I didn't notice until I got home that they were 0.7mm instead of my favored 0.5mm.
These plastic Rotring pencils are budget friendly. At only $1.25 per pencil, these are not disposable but they aren't so expensive that if your kid (or you) break them you'll cry. The pink, orange, blue and green are bright and cheerful and mostly easily found in a backpack. The sliding tip protects the lead and the tip from breakage.
The pencil is all plastic except for the sliding tip, clip and nock cover. The tip and nock work well. I quite like the rounded bullet pointed tip of the nock. It is comfortable. The Tip cradles the lead well. The clip. The clip is garbage. It's sloppy and not springy. If you clip it to something it doesn't spring back well at all and in fact stays all sprung. Gross. I clipped mine into my pant's pocket, a bad choice. It was bent to hell. I took the clip off and fixed it with ease, but still.
The first click of the nock deploys the tip the next, 1mm of lead. The nock is solid and satisfying to click. It's quite nice to use. The included graphite is Rotring HB and each pencil has 2 sticks. I do not like Rotring graphite. I swapped mine out for NanoDia B for a silky smooth and satisfying writing experience.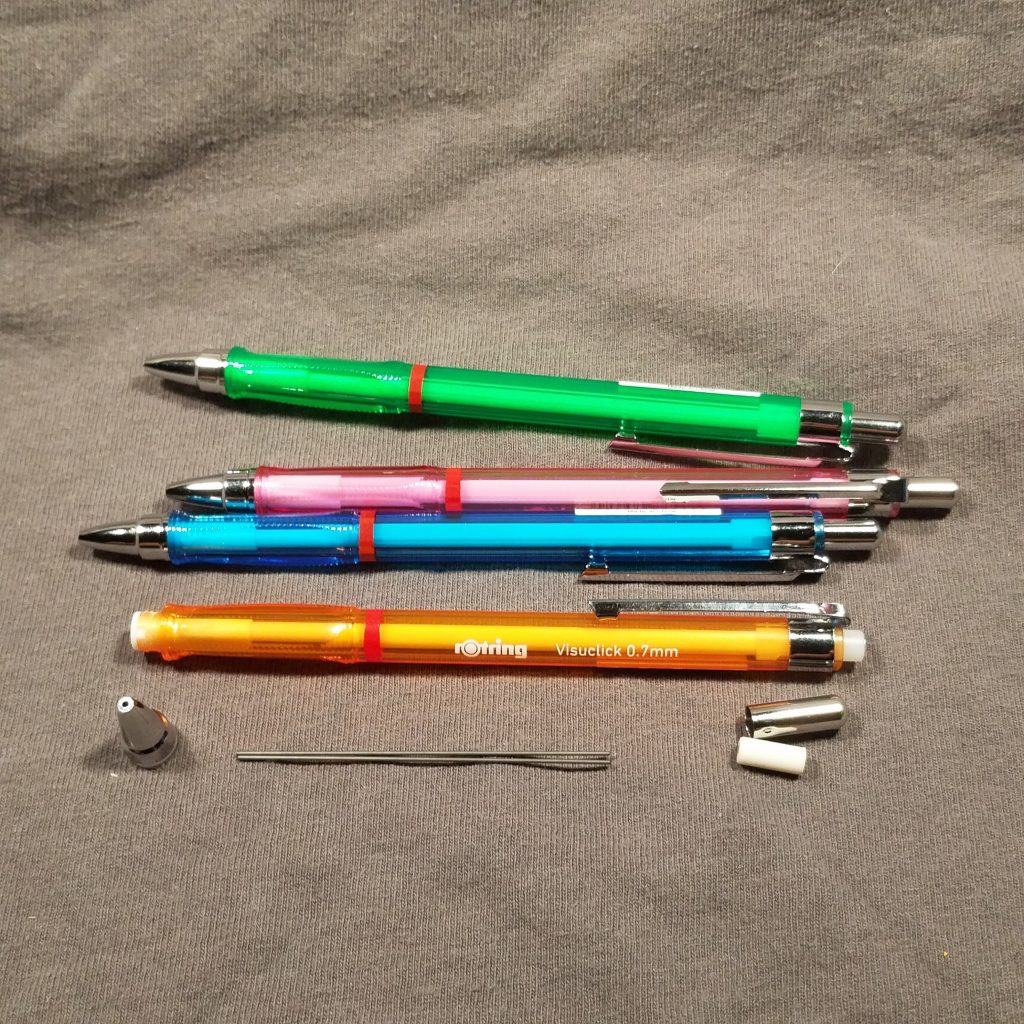 The plastic is molded into a triangular grip. It might be a bit narrow for some people, but I have small lady paws, so this might not work for someone with large meaty paws. I found the triangular section to be perfect for my writing grip. I used these for writing in some of my composition notebooks, swapped out with a nice NanoDia 2B lead. I noticed that when writing if I pressed too hard there is a bit of play in the sliding pipe and it breaks off the nib inside the tip of the pencil. It doesn't jam but when you advance the next bit of lead it ejects that broken bit of lead out onto what you're writing on. The first time it happened it was a bit of a shock. Then I noticed when I broke the lead- usually when I was thinking about the next line I wanted to write and pressed down on the page with excitement at an angle. It's not a deal breaker (PUNNY!) but certainly annoying
Overall, I like these mechanical pencils. The colors are bright and they feel good but very lightweight. It did get me wondering if the tip and sliding pipe would work for other pencils. These might be a great way to adapt other pencils to a sliding pipe. Or maybe swapping out a flat nock cap to a rounded one? Not that clip though, that's garbage.