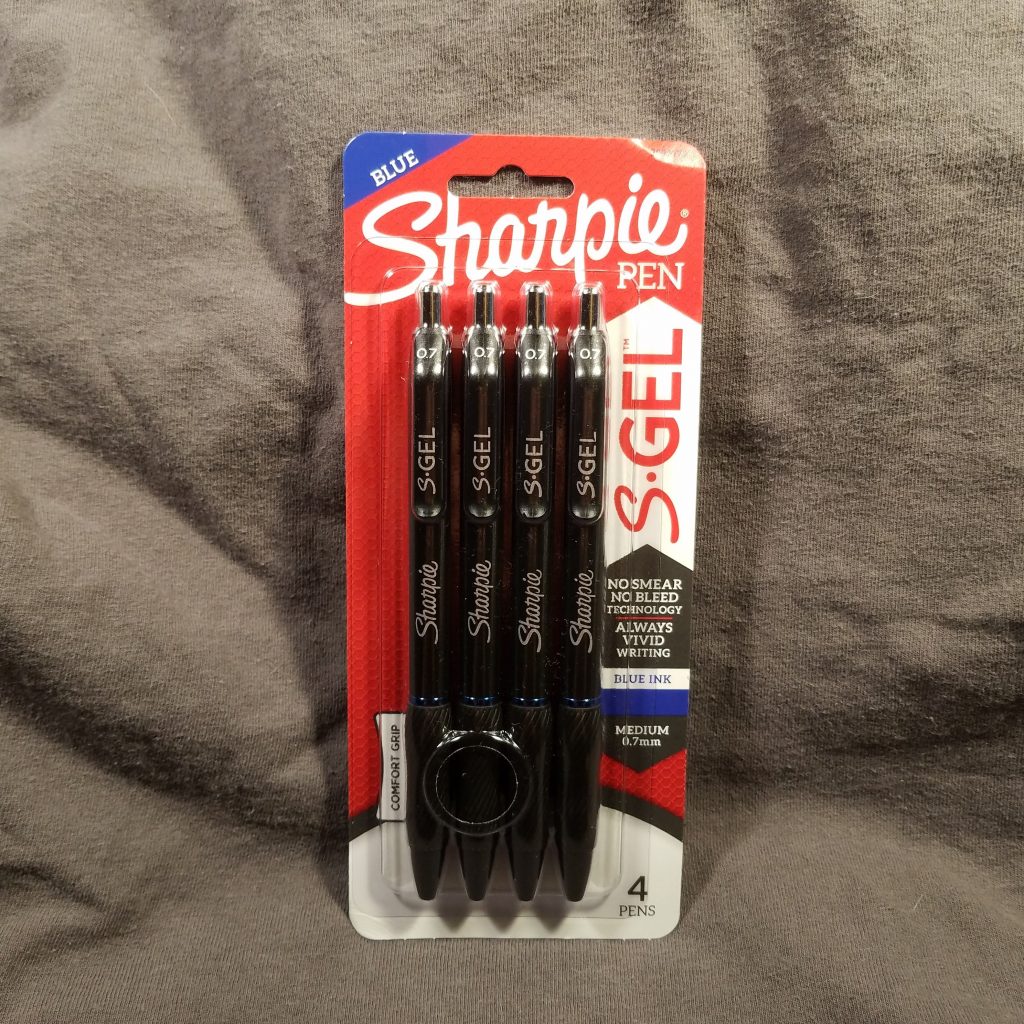 My partner saw a pack of these and decided to score a few points with me and bought them for me. Wise choice partner, wise choice.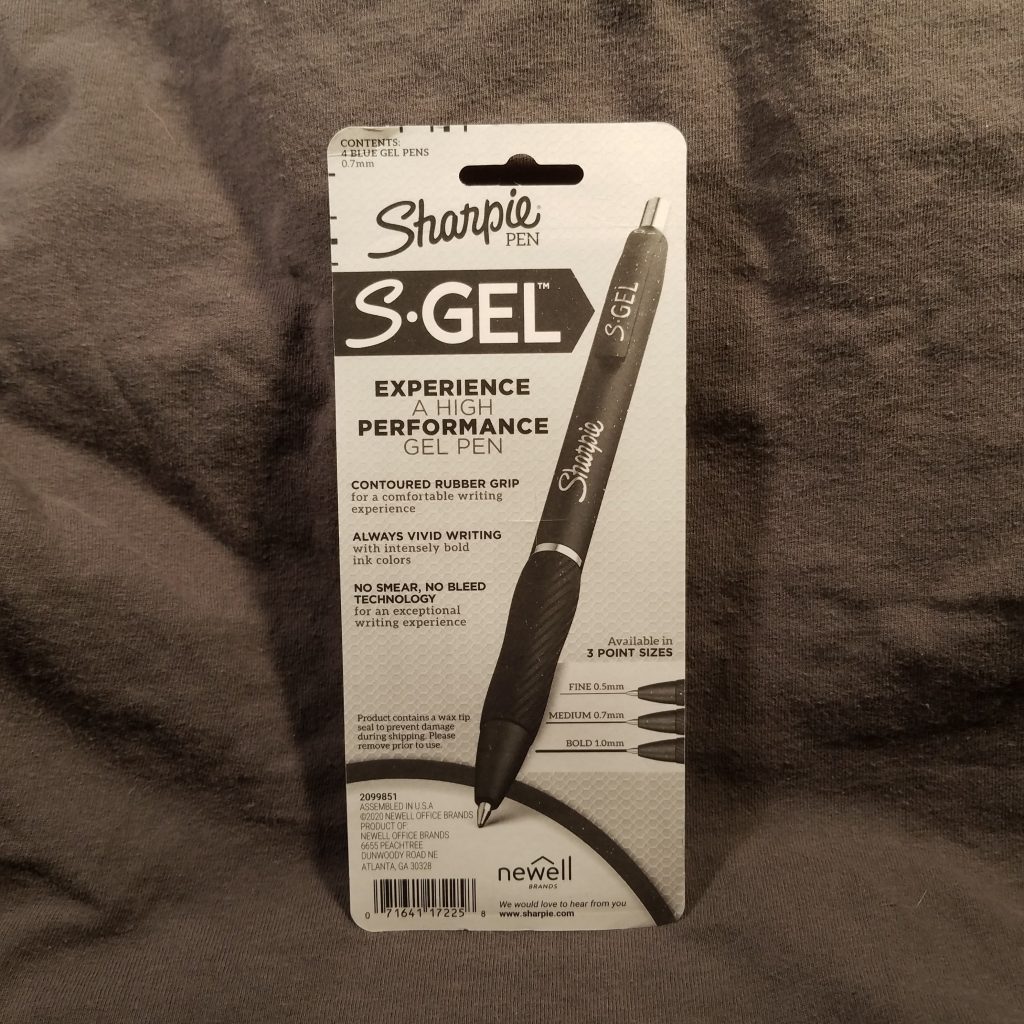 I enjoyed the porous point of the original Sharpie pen but I was not in love with the longevity or lack thereof. The narrow grip left me wanting.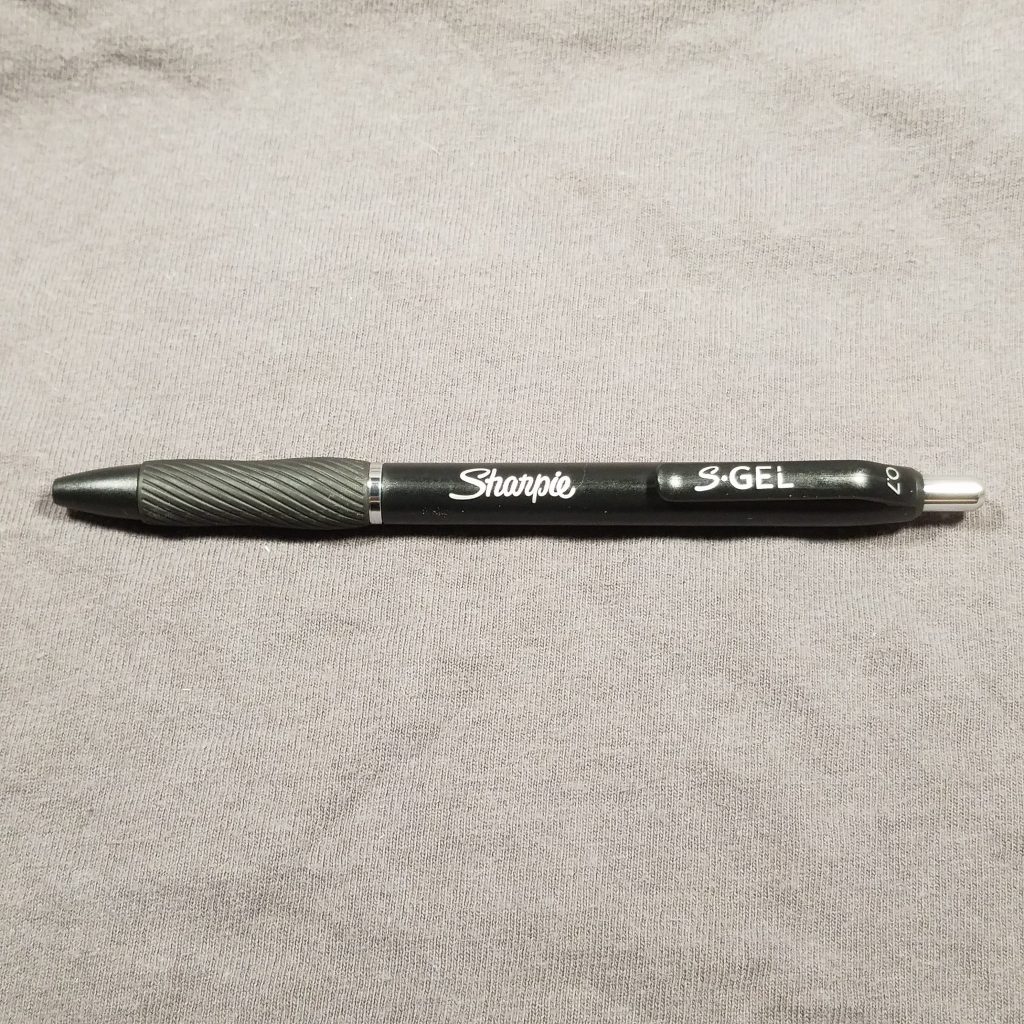 The S Gel has a curved body with a swirled ribbed rubber grip. The plastic is matte black. The grip dips in a bit and flairs out near the base of the grip. The clip is extremely sturdy, the plastic is slightly flexy so it is likely that if it is clipped to something fat that it will stretch over time. But with some fiddling around and fidgeting I was not able to break the clip easily. The allblack body is accented with a silver ring and nock, and the Sharpie name and name of the pen are printed in silver.
The pen looks good. I found that I had to get accustomed to the curvy grip. I found myself holding it in the more narrow section but needing to hold it closer to the point for comfort and writing legibility.
The nock is satisfying. It pressed down with a stiff feeling and makes a satisfying click when engaged. The spring in this pen feels sturdy.
The gel ink is smooth and wet. Writing is effortless. Even on rough paper it feels smooth. On smooth paper it glides. The ink is deeply black. It rivals even fountain pen ink in its darkness. It doesn't lift when a highlighter is used over it. I've yet to test it out when sketching with watercolors. The pen flows so smoothly when sketching. I haven't noticed a skip or blurp. I have not had a blob on my page. It flows smooth and clean.
This has become my new favorite gel pen for writing and sketching. At $5.27 at Walmart this isn't the cheapest 4 pack of gel ink pens but it's also not the most expensive. That is flows so smoothly and deeply black makes it a winner for me. I do need to test it's lightfastness in my window of fading. But right now it's great for writing, doodles, and thinking.
I picked up a second 4-pack of blue ink S-gel after reading Brad's review over at the Pen Addict. I snagged the black pen my wife had been using and we broke the waxy seal on 2 of the blue pens, and ours were all silky smooth and the flow was consistent on all the paper types I used- from the crappy paper at work, my various composition notebooks, and a nice Rhodia graph pad I had on hand. I'll be buying more of these due to their silky feel and deep dark black on the page.