I regularly use an A5 Lihit Labs Bag-in-Bag to contain my notebook and journaling supplies. I also use a large sized to contain my laptop and cords and cables. I love the simple slim packaging of these cases and how I can look into my bag, select the right case with the right stuff. The Guardian Pro enters an already crowded arena of things that do a similar job.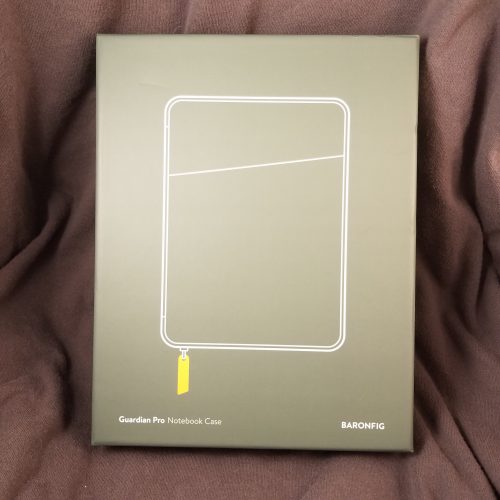 The Guardian Pro (GP from here) is top notch in what it does and what it does it for. Compared to the Lihit pouches I own it feels both sturdier and more expensive, which is good because it is significantly more expensive. The zipper is smooth and moves effortlessly. Which is good because the GP fits snugly around my Confidant and everything else you will want to shove inside.
The GP pushes you toward minimalism in your tools. It will hold a Confidant, a Vanguard, some Strategist/index cards, and a few refills. The index or pocket notebook pocket will hold a phone, so long as it isn't in a fat Otterbox Defender with a Linkmount. It holds my work iPhone in it's ultra slim case just fine. The pen loop at the spine is a great touch. I like how it is both out of the way and in the center of the case. If you are putting a Baronfig Squire in there it is bracketed with yellow stitches that perfectly match the zipper and classic Baronfig ribbons! Such a nice little detail.
I've only had the GP for a couple of weeks. So I can't report to you about the longevity of the case. I can tell you that I haven't been gentle. It gets shoved into my bag along with my Kindle (I don't like the Kindle in the front pocket of the GP), my current composition notebook, a thermos, and assorted other things. It has yet to pick up as much dirt as my other bag organizers. I really like the materials Baronfig chose for the exterior and interior. The exterior mimics the Confidant while the inside feels more like a traditional backpack. The slightly  rougher feeling of the exterior has a nice tactile appeal. A step up from many of the other  canvas materials, it feels grippy.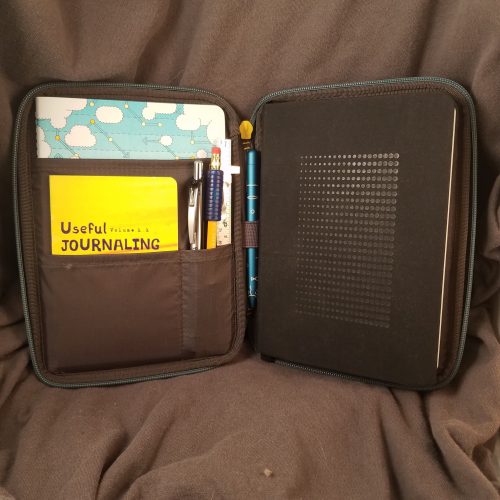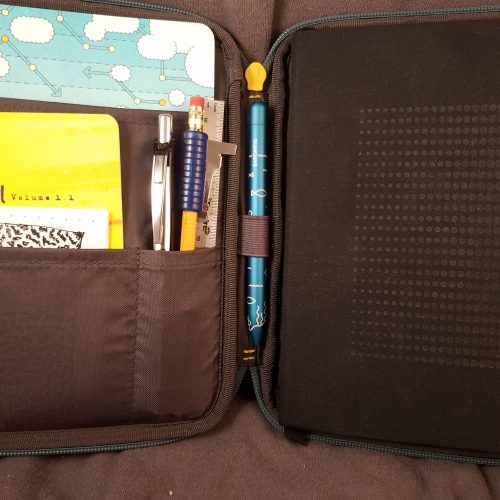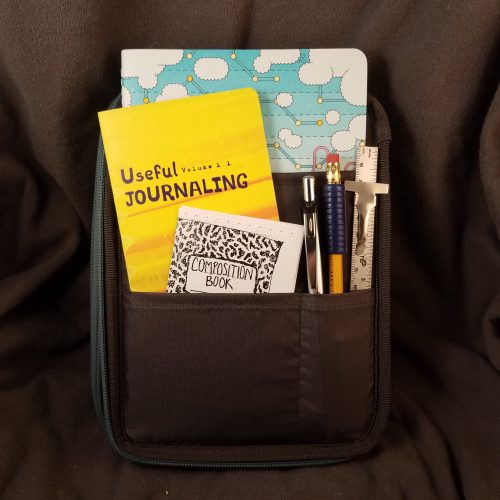 I have to admit that other than pocket notebooks that live in my back pocket I rarely see the need for a case for my hardcover notebooks. The cover does the job of protecting the books well enough for my needs and any damage done is a line in the story of the life of the notebook. So when I have used a notebook in a case like the Lihit Labs (bag in bag) I use the journal separate from the case. I was a bit worried about working in my Confidant inside the GP. I was even more surprised to see that I LIKED IT.
Because I am a notebook and journal agnostic the GP won't fit all of my notebook case needs all of the time but for the time when I'm using a Confidant it fits them perfectly. It is an investment but the better quality materials and detailed touches like that zipper and stitching really make this case stand out. Overall, the Guardian Pro challenged some of the ways that I use my notebooks– working in a case, use of a case for a hardcover notebook, but it also let me carry just a pen and a few other supplies in a safe way. Since I may end up going back to "Office in a Backpack" this will allow me to bring a level of side hustle to the Backpack Office.*
*Backpack Office is the term I came up with when I was working in a space that didn't have assigned offices for employees, instead we claimed an office that was open that day and told the Front desk where we would be. I had to carry all my office supplies with me in my backpack. To be assigned an office you had to be there longer than anyone else, and be full time.
I was given the Guardian Pro by Baronfig for free for the purposes of this review. I expected to hate it, then attempted to give it a fair review and it has become a part of my EDC, so I guess that says something.