I ordered this pen on a whim, specifically for the neon green plastic pen body. At $4.50 it's not the cheapest but it's certainly not expensive. It took a very long time to arrive from China and was tied up in customs for months. (It's currently not available on that link, but keep an eye on eBay as it's likely to pop up again, possibly under another name.) You might notice that the color of this pen does not photograph well, it's so bright and truly neon that it looks washed out on the notebook. The Jinhao Candy fountain pen is bright and fun.
It arrived in a simple bubble wrapped envelope and sleeve. It barely fit into the package. Fortunately the pen is made of very sturdy plastic and arrived looking great and in pristine condition.
The plastic pen body is made of thick sturdy plastic. When I looked at it I was surprised at how thick the plastic was. It's not heavy but feels good. Some plastic pens feel cheap, this one does not. The grip is slightly short but isn't uncomfortable. It's narrow so this isn't going to be for those large fingered big fisted folx. It's not a dainty pen but sort of in between. The body of the pen is short-ish, and I found it uncomfortable to write more than a few notes without *gasp* it posted. Yes I post this pen.
The cap posts perfectly and tightly on the end of the pen and extends the pen to a perfect balanced length. This pen is surprisingly well balanced for my writing and grip style. I'm not gonna lie, I love that ball end wire clip. It's fun and works surprisingly well.
The nib as it arrived was a fine, with a fair amount of baby's bottoming and while I did attempt to smooth this out, it would not work for me. It worked intermittently and they the ink just wouldn't flow. So I ripped it out and replaced it with a similar nib. If you decide to play around with Jinhao and WingSung pens, do yourself a favor and order a package of replacement nibs. The money spent is worth it. With the new nib in, the pen is an extra fine with a smooth wet flow.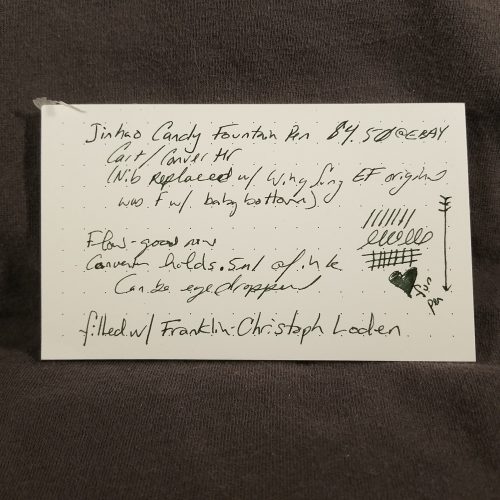 Honestly I like this pen FAR more then I ever expected. It is a cart/converter pen but it's fun, bright and a joy to write with. The tiny converter means I get to switch ink colors every few days, though I've been cycling through green inks.
This pen was purchased with Ko-Fi funding. If you like reviews like this please smash that ko-fi button and buy a copy of Useful Journaling or buy me a coffee or two.
Pen: 
Nibs: