Yoobi HB pencil packs have been a solid Back to School Sale purchase for the last few years. They also have the distinction to have fun designs on them. This year's batch of Yoobi goods have the usual fun patterns but also a fun Marvel lineup of child friendly Marvel Character imagery. I decided to get the Marvel patterned pencils so that after the review I can pass them to my Spider-Man obsessed nephew.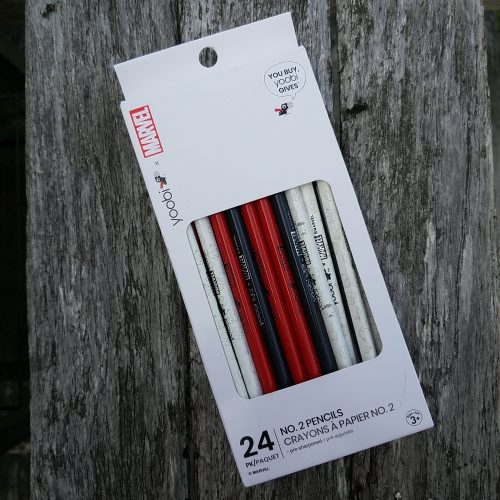 The 24 pack of triangular pencils has Yoobi x Marvel emblazoned on one side. You get 8 of each color or pattern of pencil. The white and gray pattern of child friendly Avengers icons is super cute. Fortunately they are printed and not plastic wrapped.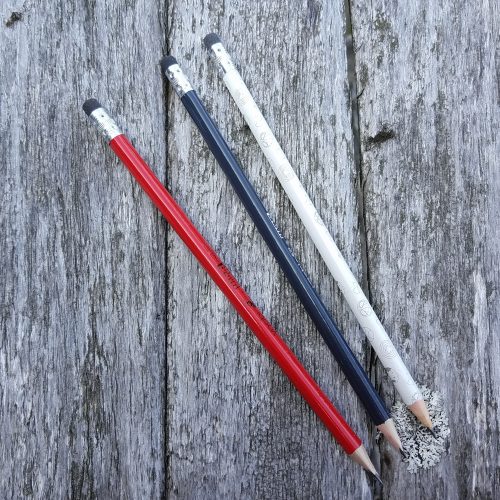 Like all the Yoobi pencils I've previously reviewed, they feature a smooth and moderately dark HB core. They hold a point for a while and don't require frequent sharpening. The core responds well to most sharpeners, and I admit I usually subject them to a hacked Apsara long point or a KUM Masterpiece. I did not test them with the more finicky sharpeners and won't.
The wood is likely linden or basswood. It is definitely not cedar. It sharpens well, especially in a crank style. I find them to be fairly narrow especially when compared to premium pencils. They feel to be a pretty standard 8mm but since I've been using mostly premium pencils lately, they feel narrow in my paws.
The lacquer, like most kid's pencils, is thin, but evenly applied. It is satin with the Yoobi x Marvel logo in the same satin finish. The ferrule is nice and shiny silver aluminum wrapped around a nice black eraser that works really well.
The pencils are shipped in a sturdy card box printed in classic sedate Yoobi white that let's the pencils stand out through the die cut window. I like this packaging. It's 100% recyclable and keeps the cores from shattering.
In terms of quality control, it has fewer chips at the ferrule than most Blackwings shipped lately. There are a few cracks here and there in the lacquer and yes, around the ferrule. But at $3.99 for 24, I can forgive these issues.
Overall I like these pencils. I'm not a huge comics fan, but I appreciate them and I know my nephew will appreciate them more. I can feel good about giving him fun pencils knowing that they have a solid working core.
These pencils were purchased with Ko-Fi money from people who hit that ko-fi button on the sidebar of the blog. Ko-fi let's me review items without worry that I'll offend the company that sent me the item. I've been known to put my foot in my mouth in the past.