When I first started my new job I had won a Instagram giveaway from  Maruman USA for a pair of their lovely Septcouleur notebooks. I still need to review them but I'll start with the fact that they are lovely. I immediately decided the mustard colored book was my new work notebook. And it's worked perfectly. It's perfect for notes in meetings and trainings. It's also not so big that it feels weird carting it around the building.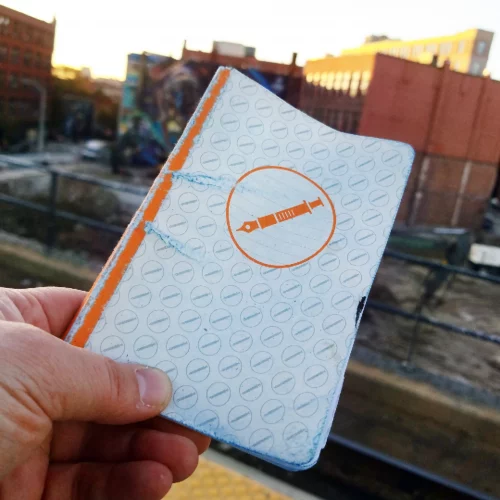 So I do a lot of moving around the building. I'm on the 4th floor for part of the week, the basement another part (the print shop lives there) and then the first floor for meetings and a group, then the second floor then the 3rd then… Suffice it to say I'm in and out of studios and floors of the building all day all week.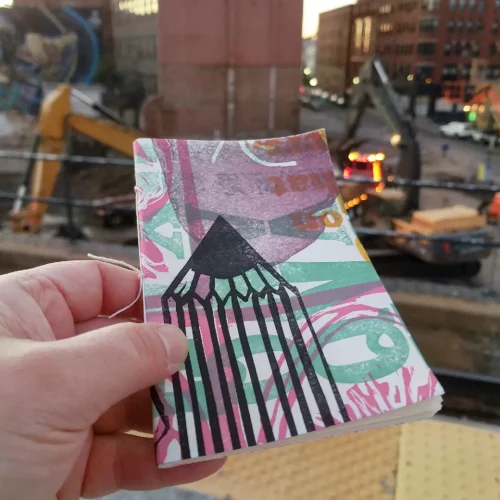 Like I said I'm going up stairs and downstairs a lot. I was really glad that I stuffed a notebook into my back pocket at the start of the job. I intended to fill the Pen Addict X Word Notebooks pocket notebook* for sketches and doodles while I was commuting via the train.
It didn't take long for me to start making notes about groups, make to do lists, and needs for groups in the pocket notebook. I'm not down to a flow with the system yet, but pocket notebooks are 100% making a post-pandemic comeback in my routine.
I started to make some of my own hand stitched notebooks. These aren't available for sale, though, I'll be making some of my own out of my own art at some point, remember all those brains I carved? Yeah on notebook covers. Those pictured are for staff at my new work- I found some dead and overprints, killer. I had to make a hand sewn version of the Dead Prints by that big company- but WOW these are so different and sooooo cool!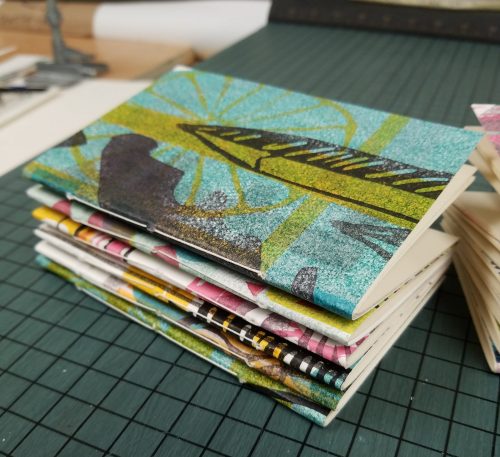 *gifted to me by Capsun Poe
This post made possible in part by my new dayjob but also from folx who give via my Ko-Fi page. The next print pack is about to be put into the mail for supporters. Some rad stuff is happening in my home studio and through my work printshop.