I can't believe I've never posted here about my various product labels that I create. I was pretty sure I had posted about them but not even the g00gles can find those posts. I have posted about them on insta, so maybe I'm just confused.
When I make or cook certain things I make goofy labels for them. The labels are crudely rendered in Microsoft Publisher with clip art, various fonts, and thick outlines. The expectation is that they are imperfect and short lived- the label would wash off and be composted. I printed them on plain paper and adorned them with watercolors for a splash of color. I also printed some for coffee on plain paper sticker paper. These labels were expected to be torn through and disposed of when the coffee was finished.
I utilize black and white clip art from this site and others. Please read their faq. I like to start with images that fit my aesthetic- brains, skulls, skeletons, etc… I like things that look like etchings. Sometimes I make my own drawing and scan it in.
I drop the image into Publisher, resize it to the correct size for the label, add in a border ingredients and a name. My blueberry scorpion hot sauce was called "Blue Scorpion." It had an old fashioned etching of a scorpion and sky blue watercolor splashed on it. While my pumpkin spiced ghost pepper sauce was called… "Basic Bitch.*" This had an etching of a large pumpkin, with the word bitch in tiny font hidden in a gray area. It had a splash of gold and orange to color it.
The cold brew coffee labels I made were a departure on a number of levels- I printed them in full glorious color on vinyl! The choice was made because I refill my cold brew bottles over and over again. So the sticker needs to hold up for a few washings. I added color only because I was able to do so. Had I not had access to a color laser printer I would have added color with acrylic paint or paint markers.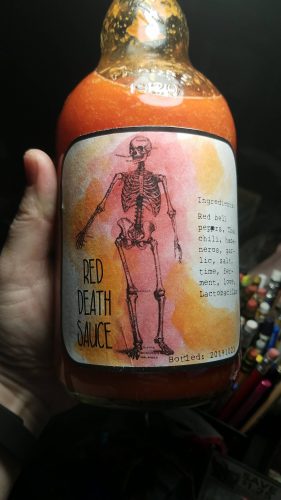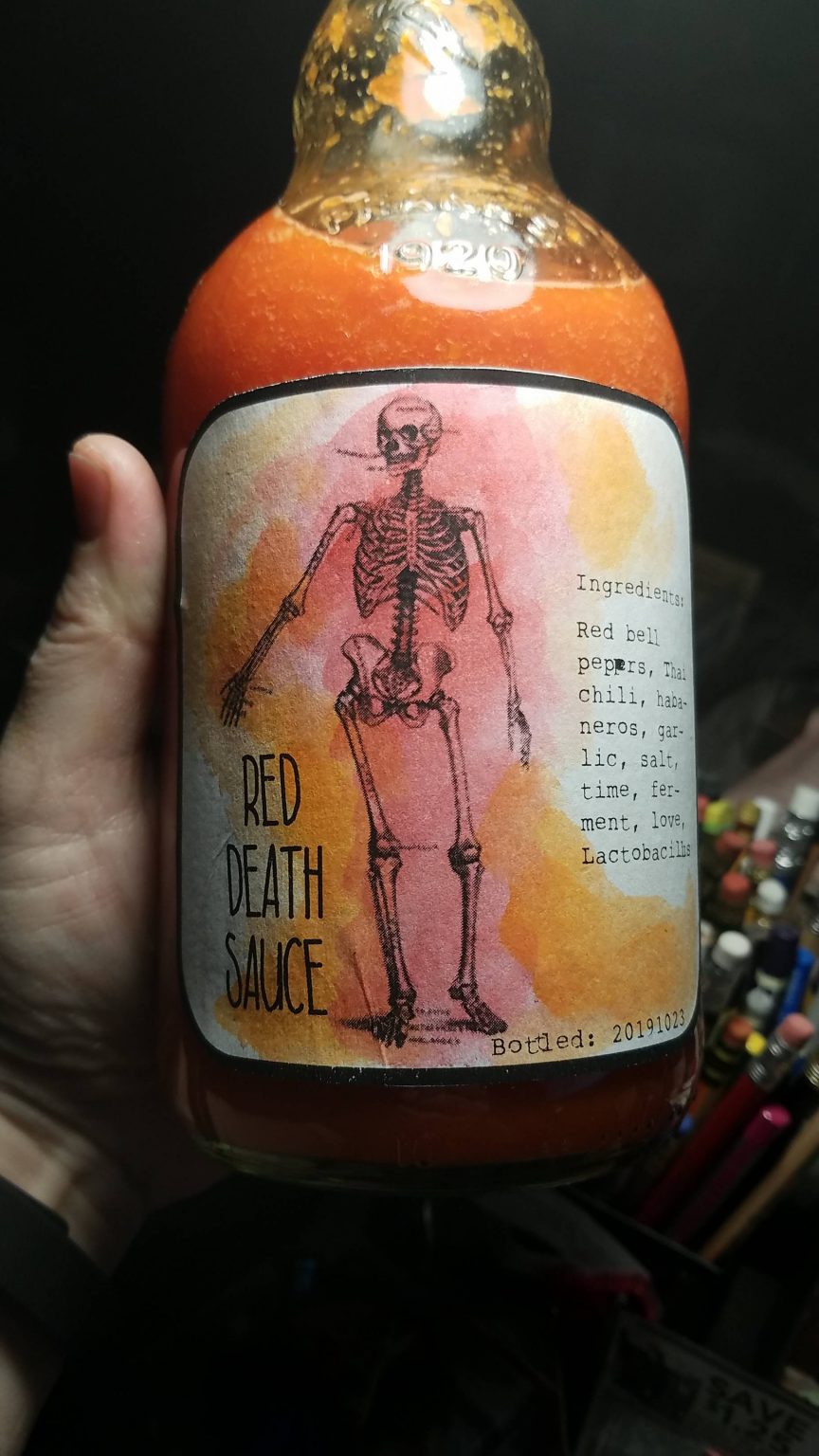 Before anyone comments, yes there is a misspelling in the decaf label. We just won't talk about it okay?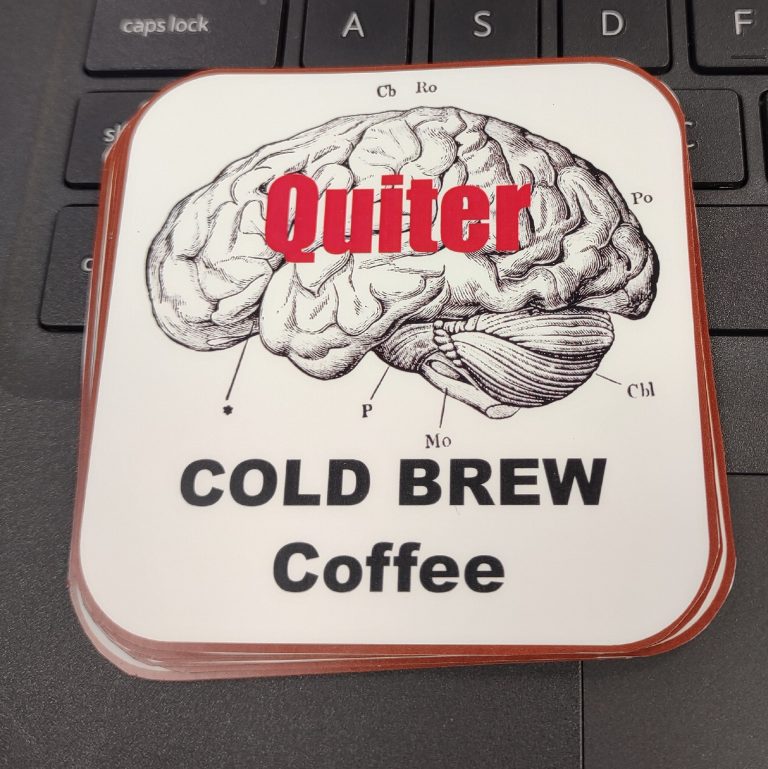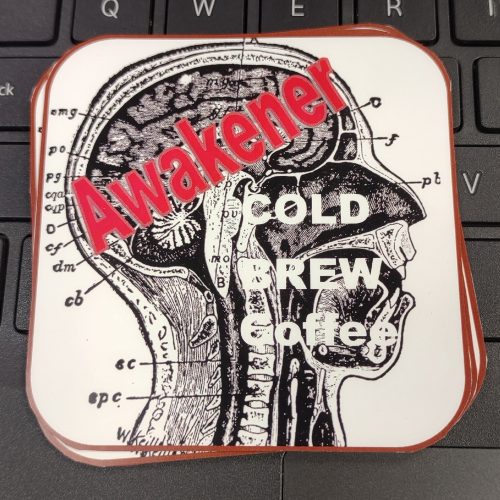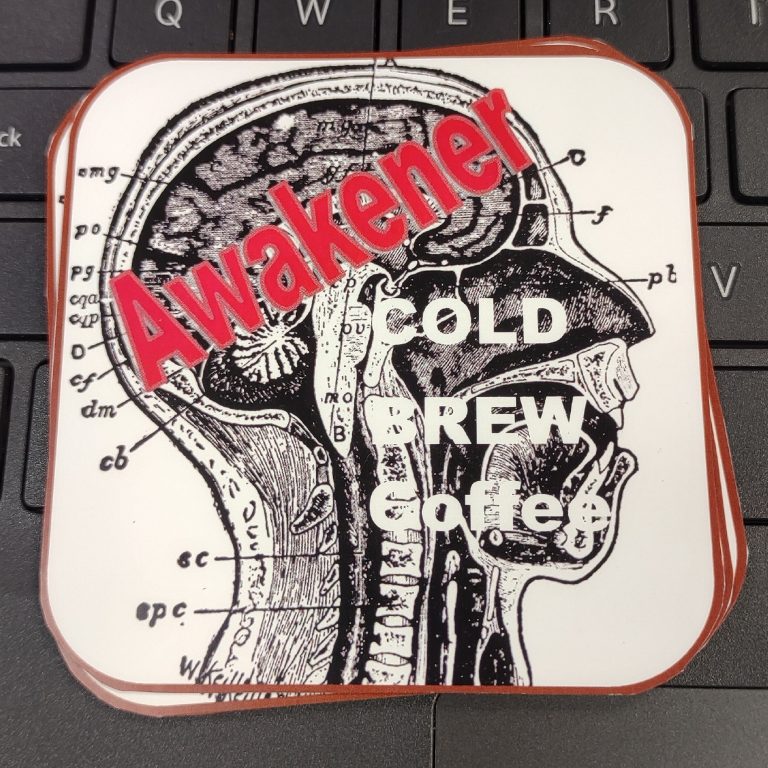 *If you know you know. Also it was yummy.
No affiliate links in this one. If you like my weirdo goofy projects, consider heading over to my Ko-fi Page and buying me a coffee. This will unlock a bunch of supporter only posts where I muse on other creative things. It's members only for some posts, so they must be impressive.