Walmart was a sea of poly covers. Again I had to pass over all the Mead comps, not a single on with a card cover. Boo. But the majority of the Pen + Gear and other brands had poly covers. I did manage to find three card covered comp books, a Pen +Gear, Mintgreen, and ClassACT.
I'm going to start with the worst on ALL fronts- the ClassAct. The cover is thin and floppy, even folded over on itself, it remains floppy. Writing out of hand is off the table. (HA! PUNNY!) Even the sheet of stickers inside can't save this book from its cover disaster. At $2.24 it is way overpriced.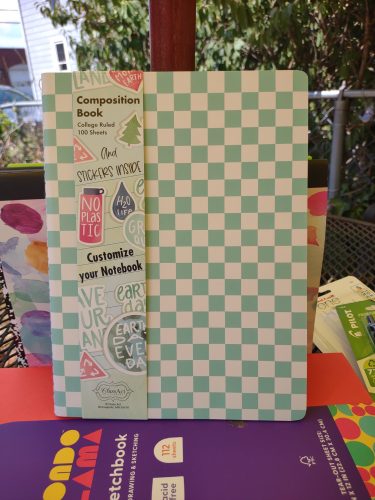 Inside the paper is smooth but absorbent. It works well with ballpoint, thin (0.5) gel pens, and pencils. Fountain pens bleed through and spread out. There were even areas where the ink had strike through to the page behind.
The ClassAct is cute, but we all know it takes more than a cute package to win the Composition Book Round Ups!
Next up is MintGreen. This is a fashion covered composition notebook. There were several options, I went with the watercolor blob cover. The spine tape is a bit thin but it is acceptable. Inside there are 80 sheets of 60% recycled paper. Once I saw recycled on the back cover I did not have high hopes. The cover is stiff but not super stiff, you can write out of your hand but it does bend quite a lot.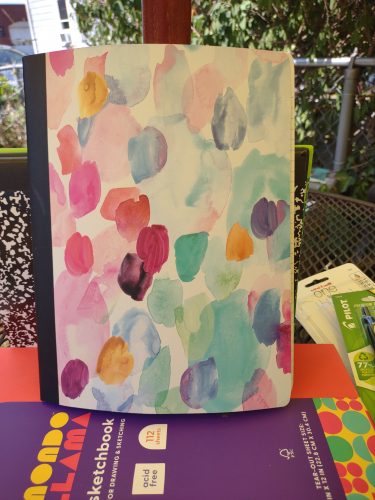 MintGreen lives to surprise. This paper handled everything I threw at it- from gel pens to fountain pens! The paper is smooth with skinny purple ruling and I like it, though it is a bit on the dark side for my usual tastes. Gel pen was flawless on this paper. Ballpoint too. Pencil was okay, there is tooth but not a ton, so the pencil is a bit faded out, but still plenty dark. Fountain pens did wonderfully here. Not a single feather but a bit of bleed through here and there. It wasn't deal breaking but your wet nibs will make a mess.
The downside? There are only 80 pages and it costs $2.24
The clear winner from Walmart this year, and the notebook to stock up on is the Pen + Gear standard composition notebook. It has 100 pages of bright white paper and a decently stiff marbled cover. The stiffness is enough that you can fold the book over and write out of hand but it will bend.  The spine tape is narrow but of an acceptable width. The stitching is great. The marbling is good too, there is a nice balance of black and white. These are available in a variety of colors.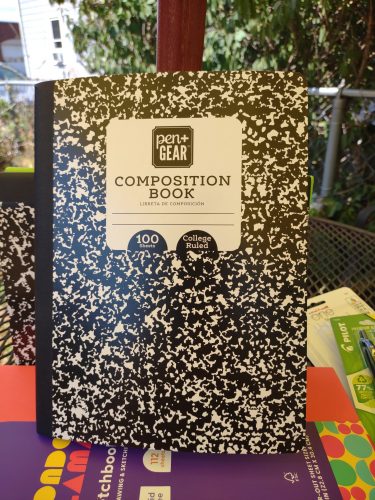 The paper inside sports a standard blue ruling which is wider than usual; but not off putting. The paper handles everything well- gel ink, ballpoint, pencils and yes, even, fountain pen. I did not see evidence of bleeding, spread, or strike through.
Honestly this is the winner of the round up so far. At 50 cents and with 100 pages, this is the best deal so far. It's got that classic comp vibe too.
It is worth noting that I had to skip over a lot of the books at all of the locations. Manufacturers seem to think people want poly covered composition notebooks, while many of the teens and kids I work with are pretty worried about plastics and microplastics. There is no need to cover these notebooks in poly plastics; the card covers last. 
Also let us wonder what recycled actually means. It seems that manufacturers have left behind labeling something post or pre consumer waste. It matters. Pre consumer waste was always blended into the next batch of paper, whereas post consumer waste isn't. If I'm buying and paying a premium for recycled paper, I want it to have POST consumer waste. /rant
Posts liek this are made possible by my ko-fi supporters, they buy me coffee so I can make posts like this. If you want more posts like this consider a one time purchase of a "coffee" for me!