Back in early August I headed to Target, not for Back to School Supplies and Sales, but for their Market Pantry Dark Chocolate Almond Butter*. I found myself wandering the store, you know as you do. I finally found myself in the back to school section. I had no intent of purchasing anything, because I'm SABLE on all my supplies.
Nostalgia took over and I looked at the comp books, because just one can't hurt, right?
Of course I picked up the venerable composition book champ- Unison. But alone in a bin below some colorful gel pens I saw this beautiful purple hardcover journal, it gave budget Moleskine vibes. I picked it up and fell in love with it's subtly textured very hard cover and the bright pop of color from the elastic and ribbon page marker.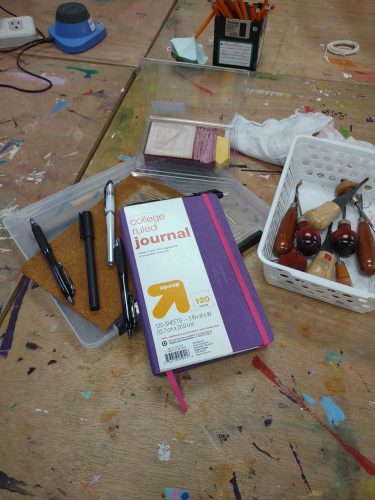 I held it and wandered a bit until I found it's friends- a selection of other warmly colored 5x9ish journals in a bin labeled $5. At $5 this journal was and is a bargain. You see it's paper and cover paper is made from sugarcane fiber, a paper that typically is thin and strong for it's weight and absolutely lovely with fountain pens.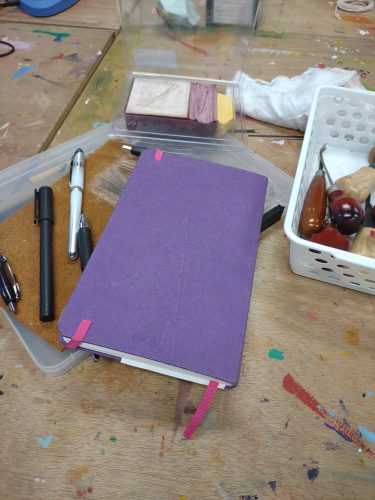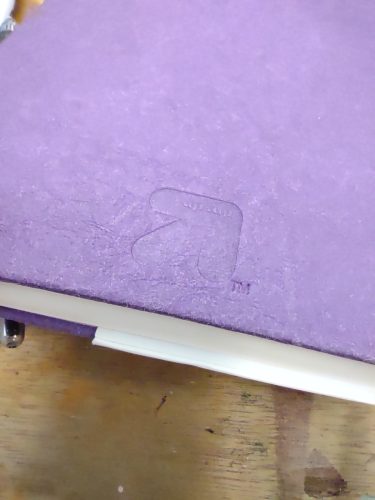 This journal has traveled with me everywhere. I toss in in my pannier when I go for bike rides, I scribbled ideas into it when I sat in the woods or on the beach. When I went to Maine to visit fam, this journal went with me. The cover has only gotten better over time. The subtle dents and dings it's achieved only serve to make the cover look better. Some of the paper cover's texture has burnished to a delicate shine. The cover has achieved wabi sabi excellence.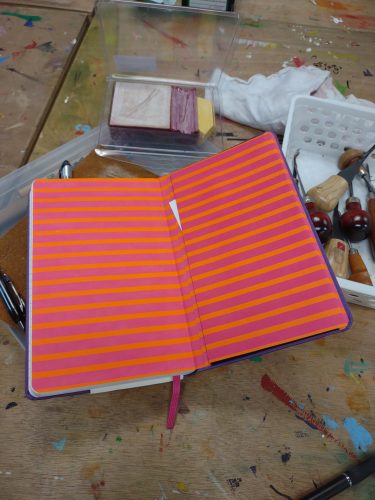 Inside the end sheets are bright and happy. I love their patterns and colors. The page marker is heat sealed and also a coordinating color. Oh there's a pocket I use for stashing receipts and stickers.
How is the paper for writing? Excellent, smooth with a bit of tooth. It handles the gel pens I've been using with ease and the few fountain pens I've been using well too. Pencils feel great. Overall I really like this little journal and despite the fact that I'm SABLE on all my journaling and art supplies, well, I'm tempted to buy a bunch of these since they are on clearance for a whopping $4.24 each. Link to target's website, no affiliate links.
As a side note, I think my expectations around a notebook/journal have evolved over time. Currently, I like a notebook/journal that is inexpensive but performs with reasonable excellence. I do not expect perfection. If the price is right ($5) then I can deal with some show through on the verso of the page. I no longer see it as a deal breaker. I still cannot tolerate feathering and bleeding. Lately I've used mainly gel ink pens! Fountain pens are a bit of a rarity. Further I've started to delve into thick juicy wet writing BOLD gel inks. This fits my current scale of work- my current work sketchbook/journal/planner is 8×10 inches and fat. I'll document it in another post. But My way of thinking is that these fat bold gel inks mimic a fountain pens inky intensity when it comes to bleed and soak through. I really do need to ink up a few fountain pens.
Anyway, this fits my criteria of affordability and decent performing paper. It also helps that it can survive my panniers on my bike through my summer commute via rail trails as well as my backpack on day hikes.
*With significantly fewer carbs and more protein than Nutella this hits my sweet tooth with just the right amount of sweetness that I occasionally crave, especially after a long bike ride.