Nataraj (and Apsara) includes a block eraser and sharpener in every pack of 10 pencils you buy. The eraser measures 3.5*1.7*10mm, is made of firm white plastic, and sports red printing on one side. The red printing has the brand name Nataraj in a red stripe and the words Jumbo Plasto. On both my erasers the printing is slightly different and the color of the red differs ever so slightly. In use the printing blurs under my fingers, but leaves no marks upon paper or my hand.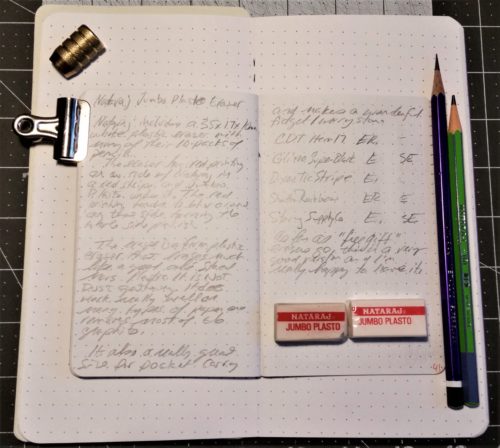 The firm white plastic reminds me very much of the Staedtler Mars Plastic and performs as well, if not better. It is not dust gathering. I've tested it across No Brand Notebooks, Field Notes, Yoobi Composition Notebooks, cheap 3×5 cards, Story Supply Company notebooks, and the cheap recycled paper at work. Overall it performs really quite well removing most of the graphite from most of the papers. Here and there it would leave a  ghost of an image but if one is writing over the space, it isn't noticeable.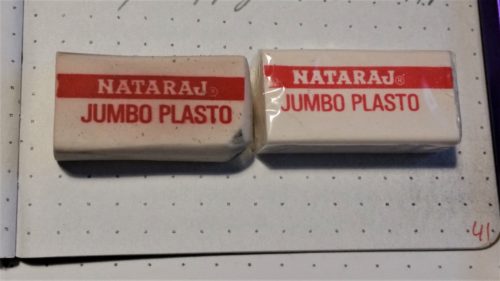 The size is perfect for pocket carry. It's small so it disappears in a pocket but isn't so small (think of the KiN pebble) that it is lost when you reach for it. The edges are rounded and comfortable to use. The Nataraj eraser is naked while the Apsara is sleeved in a little card stock sleeve. Somewhere in  my piles of stationery shit, I have a sleeved Apsara, one might think I could find it for this review, but no, it remains hidden. I've been carting this eraser around in my pocket and it has provided not only useful for erasing but has also served as a very pleasing worry stone.
I have to say, that though this is a "freebie" it certainly adds to the appeal of the bonus items in the Nataraj boxes. Some bundled erasers are truly horrible, but these are darn nice.