The Apsara Matte Magic 2.0 pencil is pure fun. It hits all the buttons for me for an enjoyable pencil experience.  First, the pencil is painted black. Black pencils are my jam and I always want more of them. The imprint is silver foil on black- classic and awesome. The end dips are colorful and have meaning to the inside of the pencil.
Inside the wood of the pencil, it sharpens like bass wood, is dyed a variety of colors. Some pencils have one color of wood inside, others have two colors. The end dips correlate to the colors inside! The mechanical coordination this must've taken in a factory pumping out millions of pencils is kind of mind blowing.
The core is labeled as extra dark, which in Apsara terms means nicely dark with a firm core. The extra dark core is one of my favorites for writing for long periods of time. It glides smoothly over a page and leaves a deep dark line. Killer.
I sharpened mine up in my hacked Apsara Long Point housed in a RandomThinks 3D printed holder (a killer tool check out his insta to see if you can get one) and it sharpens up to a lovely point.
The 10 pencils arrive bundled with a long point sharpener ripe for hacking and a little plastic eraser. I've immediately started to use the tiny eraser. It's perfect for pocket carry and mimics the pencils- the inside of mine is yellow and the outside is black. Cool.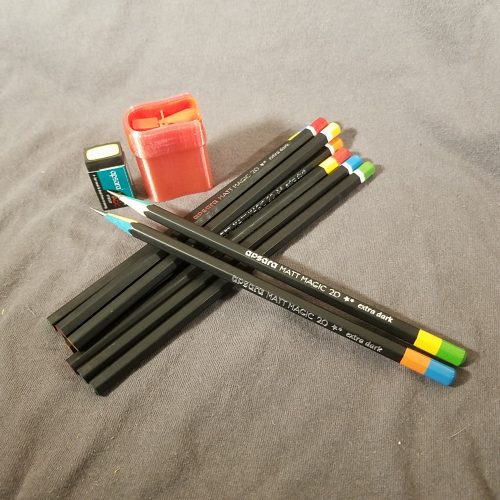 I picked these up on the 'zon for $6.99. At 58 cents a pencil this doesn't reach into most folx premium range, and it's about 20 cents cheaper than last week's review. These are nice pencils that have a core that works really well for all my writing needs, especially long form writing. They glide on all my paper and I love them. They are fun and bring me joy.