A month ago I created some samples of art and writing materials to see if their pigments were lightfast or fugitive. I've checked them here and there throughout the month to see which pens fared the worst. There were some surprises and with other expectations were met.
Let's start with lightfast expectations met. The Uniball and Zebra pens all proved to be lightfast. This was expected, every Uni pen I've ever tested has been lightfast. In this case I tested the Air and  Jetstream 3.0. I also tested the Zebra Surari 3 and Sarasa 3, both were lightfast.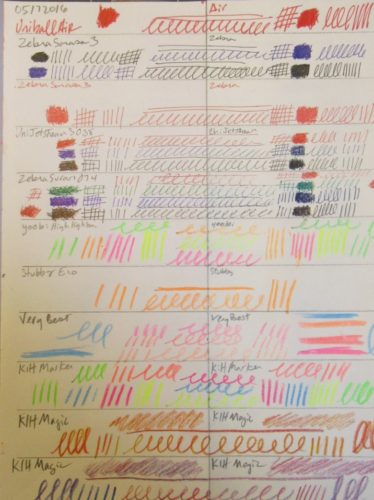 The lightfast surprise was that all of the highlighter pencils did not fade, at all. I tested all shades of the Yoobi,  Very Best, Koh-i-Noor Dry Marker, as well as the Koh-i-Noor MagixFX series. None of the colors shifted, changed or faded. Quite amazing given that the general rule is that highlighter and neon colors shift.
For fugitive properties I expected that all of the Bic colors would fade or shift within a short period of time. Most met this expectation in both tip sizes. Purple, red and pink all shifted in a week and at the end of the month we're extremely faded. I have no doubt that if I were to continue with the experiment these colors would be gone in months. Blue and Black had noticeably shifted in shade and begin fading at the end of the month, with the black fading the most. Interestingly light blue, light green and dark green exhibited the least amount of color shift and fading.  I would not suggest that these 3 colors are lightfast merely that they did not shift as much as the other colors.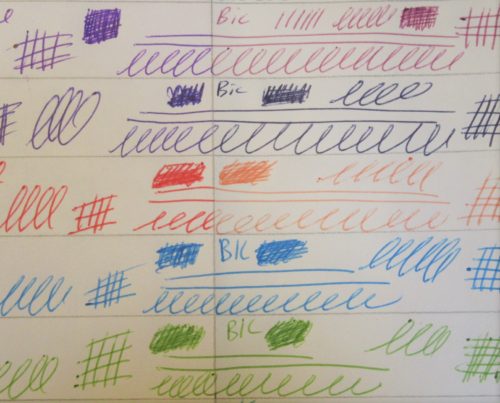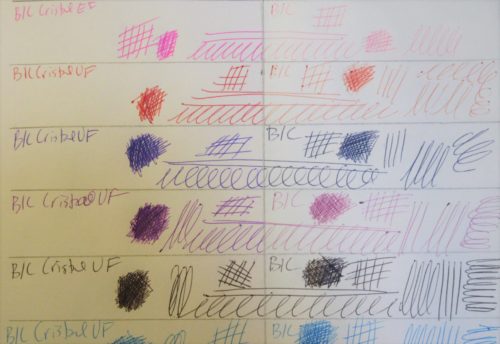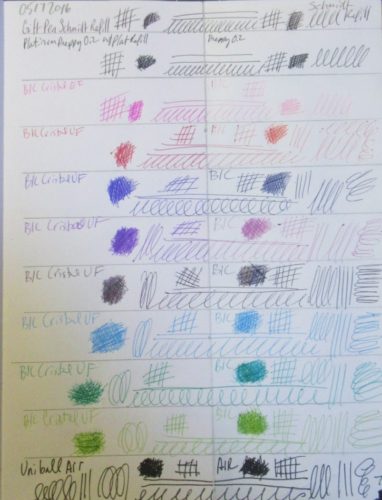 I also expected that the 4 fountain pen inks I tested would show fading and color shifting. There was no surprise here. Both Edelstein shades faded within a week, and by the end of the month the Turquoise was on it's way to being gone and Tanzanite had only the black left behind. Emerald of Chivor had shifted shade noticeably and was showing signs of fading. Interestingly of the fountain pen inks tested only one was lightfast, the Platinum Preppy black cartridge used in an EF Preppy pen.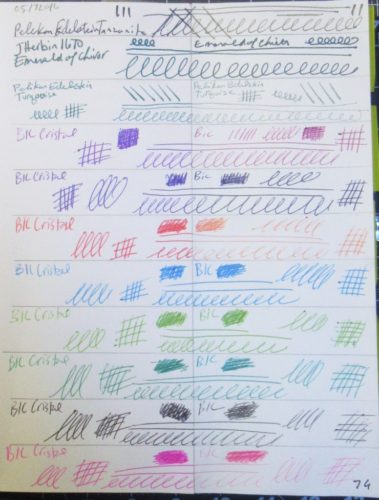 I tested 2 ballpoint pens- the Retro 51 REF71 (a Schmidt refill) and a Schmidt mini refill. Both proved to be fugitive but still easy to read at the end of the month. The black ink was quite faded.
Finally as predicted the Papermate Flairs proved to be incredibly fugitive. They showed rapid color shifting- radical color changes in a week and several colors complete gone from the page at the end of the month. Both shades of purple and pink were gone and no longer at all visible. Yellow and Peach were nearly gone. Red, both shades of blue, black, both shades of green showed fading and massive color shifts at the end of the month.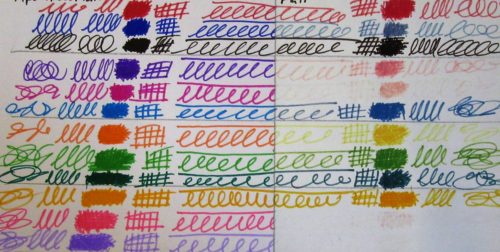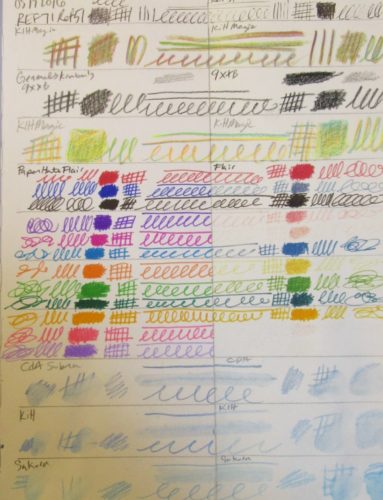 What does all of this mean? For me, anything that shows color shifting or fading should only be used in an art journal, or something that will not be displayed. Because even artificial light can fade and alter colors it's not safe to allow work done with these fugitive pigments to be anywhere the sun or light shines.