The shining star of my recent Jetpens purchase is the MitsuBishi (UniBall) Nano Dia pencil with a B core, in green and white. They are available in 2B as well and in the following shades green, pink and blue. The white finish of the pencil is pearlized. It's very similar to the pearlized finish of the Palomino Blackwing Pearl. Howeve,r the NanoDia has green triangles printed over the creamy white finish. They are semi transparent and barely noticeable. There are 2 accents of a darker bright green. One is a diamond shape and the last is a band at the ferrule end of the pencil. Together the colors work well and make for a very nice looking pencil. The green reminds me of the Staedtler Wopex coloring.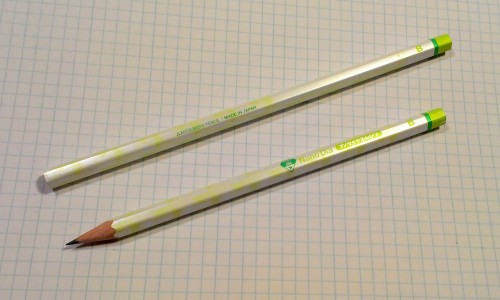 The ferrule end of the pencil is not finished. The core and the wood of the pencil are visible. the core is well centered. The pencil sharpened to a nice point in my Kum Ellipse sharpener. Because my allergies are interfering I cannot tell if this is cedar or not, however it LOOKS like cedar and sharpened well.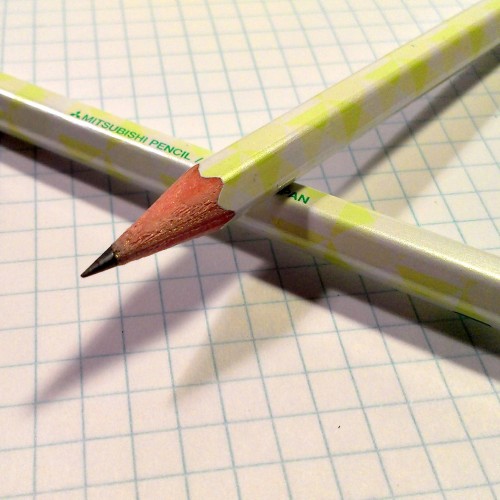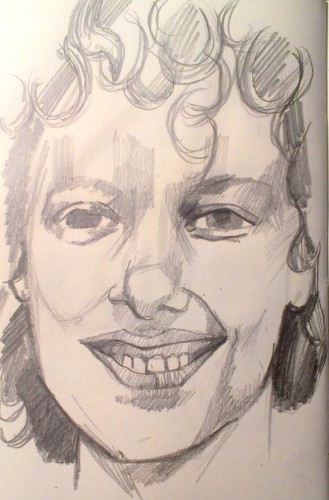 The pencil is graded as a B, and it writes like a B pencil. It's darker than most HB pencils and is softer and smoother. However, it held it's point well and didn't need to be sharpened after every word or scribble. It erased cleanly with both block and stick erasers. It is be well suited to sketching or note taking. If I were to compare this to a Blackwing, I'd say it's VERY similar to the Blackwing Pearl in darkness and softness of the core.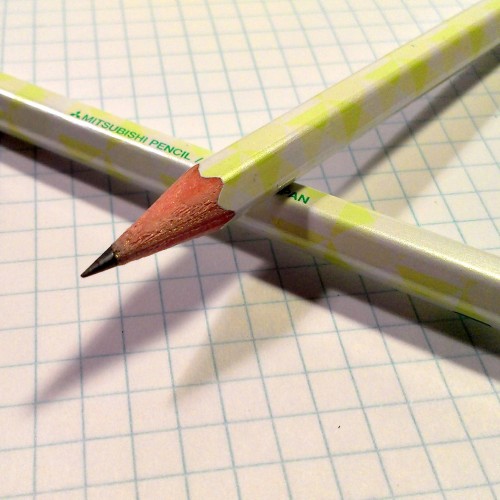 Also, it is affordable priced, arriving in a 3-pack for $3. This is again, an option to boost your JetPens purchase to being over $25 to get you to free shipping. Don't like green? You can get it in bright blue or pink. All colors are available in B or 2B. The green is a great spring color.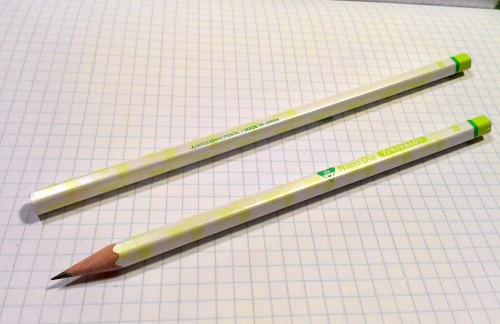 Final word? A good looking and affordable pencil that will make you happy. I'll be reaching for this one more than any of the others I ordered in this Jetpens package. I would say if you want the Blackwing experience with a lower cost, the B NanoDia will give you that experience. I'd rate this at a very similar level as the Blackwing Pearl.
If you don't like wood cased pencils, Uni offers the lead for mechanical pencils. It's as nice as what is in the wood pencils but offered in more of a range of hard and soft. I have a couple of packs and I've been happy with them.