When I paint with watercolors I buy Princeton Art Company red handled synthetic rounds. Why? They hold a point well, survive my abuse the longest, and hold a great deal of paint. Lately I've been working with acrylic, and my usual view of working with acrylic is that I should buy the cheapest brush available because I'll eventually abuse it by leaving paint in it for too long. i'm an acrylic brush destroyer. BUT! lately I've been working on things with small details that need a fine point… I've reached for my watercolor brushes… I've not destroyed any of them YET!
When I picked up my "Congrats, You survived your first semester of grad school" gift a couple of weeks ago I also snagged a new brush. Princeton Art company has a new line of brushes called "SNAP!" The rack had 2 sides- one with long handles and the other with short. On each side was a range of sizes at a set price point. 2 and 4 rounds and flats were $2.99 and 6 and 8 rounds and flats were $5.99 and so on. I snagged a #6 round with a short handle and white taklon bristles.
The brush is good looking, the handle is painted green and blue and then coated in varnish, leaving some of the natural wood visible. It's pretty. (in the image below the SNAP! brush is shown with a #6 Princeton Art red handle water color brush as well as a Robert Simmons' Sapphire. Do not buy the Simmon's sapphire brush, it was over priced and has been a horrible brush frm the get go. I could go on and on about how horrible it is, but I'll just leave it at, don't buy.)
I've been using the brush for about 2 weeks.Thus far I'm very  happy. The bristles are snappy and spread the paint well. The point has survived my use for 2 weeks. This is a miracle. I tend to kill points quickly. The white taklon has stained with red and blue pigment but that's expected with the colors I use.
Anyway, I'm very happy with this brush at this price. They are available in multi packs as well, also at a set price and very fair price- I saw a mixed group of brushes for about $11. (I wasn't able to find a decent Amazon link for this product, they all had $7.50 shipping… for $5 items LOL.)
The images below are some faces on can lids. I used this brush for all of the image. Check out the fine detail you can see in the faces. Again nice point on a #6 round.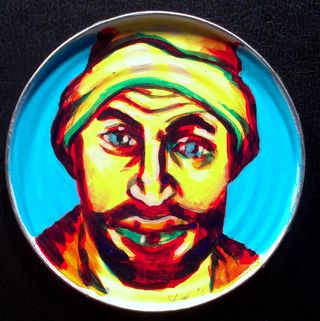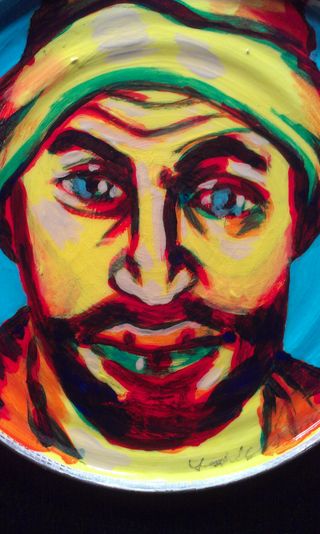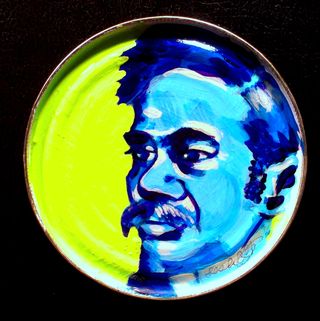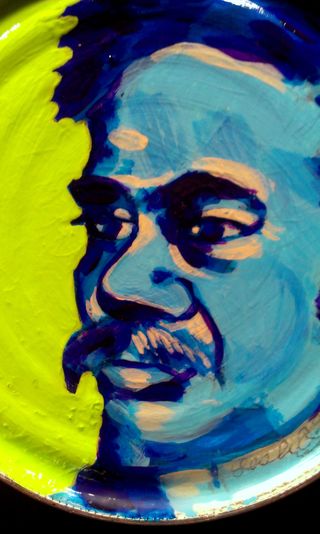 (These images are available at my Etsy shop. Faces on can lids!)
As a side note, with the introduction of these snazzy brushes and the new Catalyst tools I think that Princeton Art company is going after the mixed media market in a big way. These new lines of products are perfectly situated as affordable and USEFUL tools for mixed media artists. They aren't doing it in a cheesy annoying way either. rather than flooding blogs and youtube with annoying ads (or getting bloggers to shill for them (looking at  you Brother)) they have introduced their great products and are letting artists use them and spread the word for them. I like this method, it doesn't pander to us, or put goo artists and bloggers (looking at you Brother) into positions where to get to use or keep a product they have to copy and paste crappy copy that doesn't fit the tone of the blog into their blog. You see, when a product is good, like the Catalyst wedge, it doesn't need advertising copy forced down the throat of the blogger (again, looking at you Brother). A good blog post will write itself, that includes good and bad aspects of the product. /rant.