The Space Pen is a standby pen for me. I love its compact shape that extends to a full sized pen when used. Similar in size to the old school joy that is a Parker Jotter its just comfortable to use. I've got 2, a brushed chrome version and a stealthy matte black, the chrome with black ink and the black with red. My go to ballpoint pens when a ball point must be used.
I used them religiously for my GTD system back in the day. Black was for regular entries- to do stuff things that needed managing. I had a lot to manage 6 years ago, as the manager and buyer for a busy floral department. My GTD system is well documented here. It was a simply take off of PigPog's system of a simple line on the outer side of a moleskine Volant or cahier, blank pages please. I'd enter a date and action item, then as it was finished cross it off the list. Items that were desperately urgent were marked or boxed with red ink.
And this is where things get interesting. I was going through a notebook and I noticed that the red ink had ghosted through the page and in some cases ghosted onto the facing page. in some cases this is no problem, I doodle, a lot and obviously ghosting of doodles wasn't much of an issue, BUT when I had take notes in the red ink, it made the next page of notes hard to read.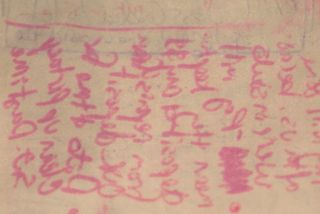 I noticed this about a year after I had initially taken the notes. It hasn't gotten any worse over the years but it is interesting. It occurred on ALL the papers I've taken notes with- old issue Moleskine Volants (w/ the GOOD paper), Wausau Ivory paper 24lb, Staples/ hammermill ivory 24lb, and various other papers. It also only occurred with the red SpacePen ink, not the black or blue.
Odd stuff.