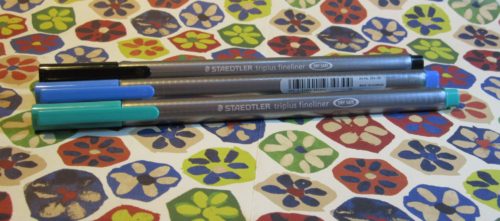 I decided to pick up a trio of these pens a few months ago for sketching. I picked them up at Blick for around $2 a pen. They are now available at Artist and Craftsman for a little less. You can get multipacks on Amazon for decent prices. I've only seen singles at Blick and A&C. Blick has a great range of colors, while A&C had only 24 shades.
The Triplus sports a very fine fiber point that is sheathed in metal. The ink flow is smooth, generous, and even. The feel of the tip is smooth on every paper I've used. It will soak through on some thinner and more absorbent papers. It performed well in Field Notes, though the black does soak through if I linger upon a word in my meandered thinking.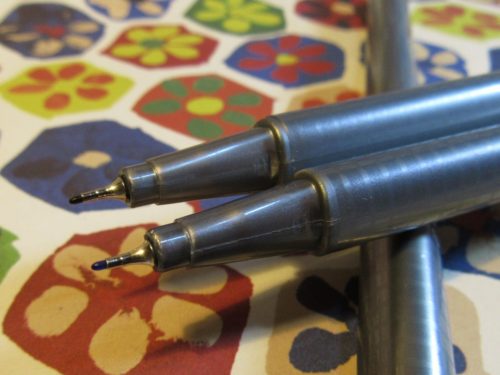 While drawing I found that they performed well. The teal shade was a tad too light, while black and blue were dark. What is important that you can leave them uncapped for ages and they won't dry out, hence the "dry safe" designation on the pens.
I found the size and shape of the pen comfortable but not for long periods of time. Like most narrow, triangular writing instruments I find the shape and size annoying. Why? I'm not sure. I tend to death grip narrow pens but add triangular to the mix, I'm attempting strangulation. The tip itself is nearly a full inch long and if you are a "near the point" type gripper, you are going to feel the transition from body to point, and likely find it uncomfortable.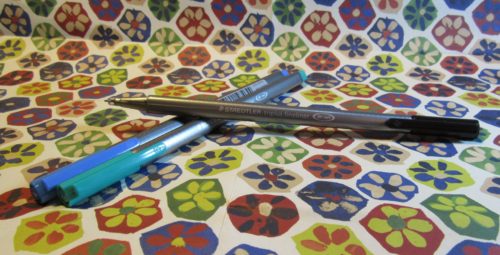 These have been marketed with adult coloring books. Have I yet mentioned that the tips are incredibly fine? They are smaller than 0.5, likely in the 0.38 category. It would take FOREVER to do a coloring page. I colored in 3 ¼ inch squares in a Mt Tom and 2 hours later I finish. Yes, hyperbole. That being said, if you would like to use a fiber tip pen the Paperhate Flair, which is cheaper, has a wider tip, might be a more enjoyable choice.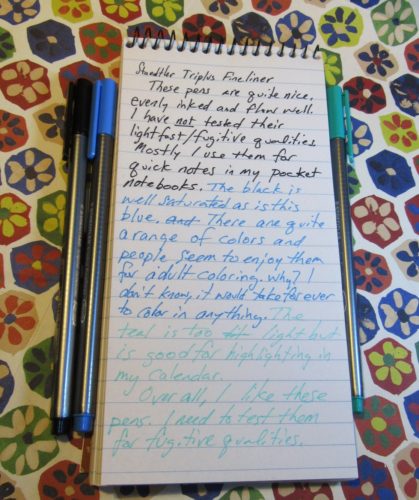 On the other hand, I tend to be heavy handed with fiber tipped pens and crush them. These survived and still work really well. I could see drawing with these or using brighter colors for highlighting. Mostly I've been using them for doodles and occasional quick notes in my Field Notes.