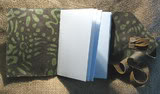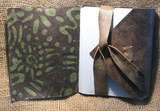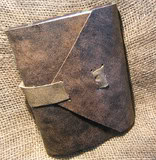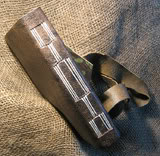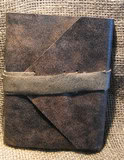 A simple book, with alternating long stitch in natural linen sewn into slots as if on tapes. I really like the alternating pattern along spine.

While sewing this I realized I was going to run out of room in my slots. I had cut them and eighth of an inch too short. I adapted an exacto blade so that I can cut 1/8th of an inch into a spine with signatures sewn into it. Basicly it's just a standard exacto blade with an angle cut off the end and that rounded over, with the back edge rounded so that I don't damage either the sewing or the paper when I have to emergency cut the leather. Have I mentioned how much I love my Dremel tool? No, well, I do! (My partner asked me how I was going to keep it sharp and whould we all have to listen to the dremel everytime I needed tomake a new one. I have a diamond sharpening stone in superfine grit and it sharpens exacto blades quite well.)

I used a different way of attaching the thong to the cover this time, I think I like it a lot. It takes a little extra time but I like the look. Its very clean.