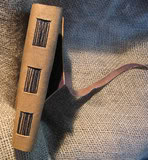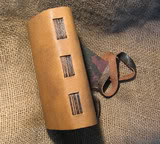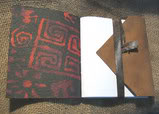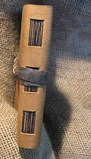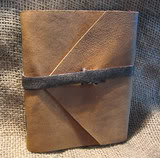 I just posted this up on eBay
It's one of my standard journals, 180 pages, leather cover adhered to a fun paper (the cave art paper I lvoe so much!) flap and thong.
I've been pretty incomunicando the last coouple of days. The day job has been, rather interesting. I'll leave it at that. I'll leave the negativity there and think happy thoughts. It has rather brought home the idea that Robert Genn and several of my art professors have said and written- the day job is a trap. Sure the benefits seem nice but there is nothing like being on your own and making art all the time. Genn puts it a little more supportively than that, more like "You can do it." The idea is the same.
The last few days have really stresed the importance to me of getting out of the rental trap and buying a home someplace affordable- a place where I can concentrate on my art.
I know that if I am to ever get away from the day job, I won't be rich, but at the end of the day i won't come home and just lay on the couch comatose. Or if I do it will be happy kind of comatose.
Enough negative thoguth, happy thoughts. Books!
I have a custom order andit involves me distressing leather myself and lines! I've never done lines. I don't know how I'm going to like it. We'll see.
Bed calls me.