I've been working like a mad woman at my day job and it's taken it's toll on the amount of journals I've been able to make when I come to my studio. I've pretty much come home and tried to clean my tables and put things away and organize. Every little bit helps, right? After I get that done I crash and sleep.
I've decided in the depth of my day job tiredness, that I'll been cleaning out some of my back stock- those old journals that have been sleeping restlessly in storage. I'm going to put them up on eBay as buy it now for ridiculous prices, crazy low prices and get them homes where they'll be used. Love them as I may, they are just taking up space here, and they deserve a good home.
Luckily for me I've gotten back into the routine of heading straight for the studio when I come home, rather than parking my butt infront of the TV. At least I get something done.
I had a custom journal order not too long ago, this is the journal I made for Greg O. a serious artist in his own right and a wonderful coworker. So here it is: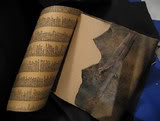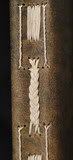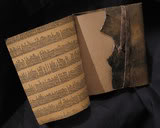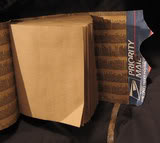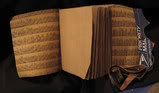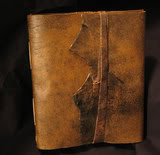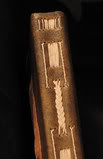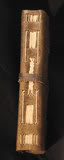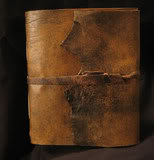 He loves it and the toughness of the binding is being proven everyday! He throws it in his messenger bag with a mug, paints in it and sketches wonderful ilttle drawings in it. From this sketchbook, I decided that my next will be filled with that wonderful kraft paper! I drew on a scrap, and god it had a great feel. It reminds me of the paper that the SMFA had in giant rolls, back when I took a figure drawing course. Not only does it fel great, it can take a load of different media, with minimal buckling and issues. Love it! It's my new favorite filler paper.
Back to making books!
PS Greg painted the portrait of me that is my icon!