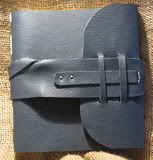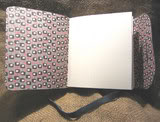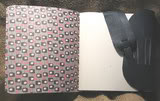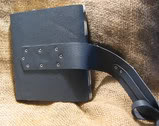 I made this medium sized journal for my friend Larry. His birthday was Friday and I'm just now getting it to him. He has yet to see it and I'm hoping he likes it.
I added some additional embelishments that I don't normally. I used a belt type closure with my envelope style flap and eyelets to attatch the belt and thong to the back of the journal. I think it looks pretty good against the dark blue leather. The leather is a blue cowhide, thick and tough. I backed it with a paper called beads on a string in pink and grey. I love the paper, it is one of my favorites. The paper on the inside is a cream colored confeti paper in which the confetti is natural colored. It's a great writing paper.
I think this journal came out pretty decent and I think he'll like it, no matter what it's a one of a kind!