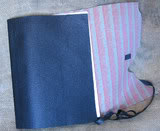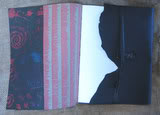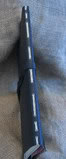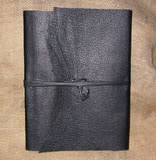 I've been working on larger sized sketchbooks. It's always been a request from people- larger, heavier paper etc. So I worked on this 3-signature sketchbook today. It's got a flexible black pebbly textured sheep cover, backed with a couple of papers. The spine is reinforced with only tyvek. Which seems to work for this few signatures. I can tell that I will need to add an insert of heavy weight paper in books of a larger size. The tyvek helps to hold the shape but it will need a little more strength as the number of pages and signatures go up.
It has 24 leaves or 48 pages of 80lb Strathmore drawing paper in an off white cream color. (It's one of my favorite drawing papers. Smooth but with enough texture that it can handle some abuse.) I did a very simple long stitch reinforced with eyelets for the good looks, as well as a little added support. I used my typical envelope style flap and a thong cut from the same hide. It looks good, if I do say so myself. The sewing is done with natural hemp.
The only problem with working a journal this size is that they use more than twice the leather and twice the paper for the covers. So they are inherently more expensive. When I price this out it should cost close to $45, but based on it having only 48 pages I'll never get that for it. It has nearly a full sheep hide for the cover.
The next time I experiment, I need to do it with a cheaper grade of leather, not top grade lamb hide!
If anyone out there is looking for a good 48-page sketchbook, let me know I'll sell this one for $42, plus shipping!