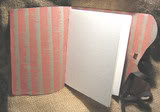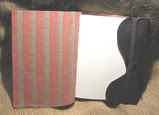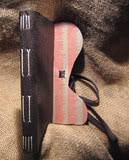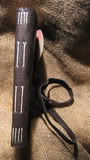 It's about time for me to crash but I just finished this sketchbook and thought I'd post it up. The leather is this incredibly soft lamb skin I had squirreled away from 3 years ago when I had bought the hide. It's still incredibly soft and smooth and still has the leather smell.
I backed it with the reverse phone book paper in pink and gray. I used a long stitch with a twist to sew up the 4 signatures of 140lb watercolor paper. I used white Strathmore watercolor paper because it's so readily available but I think that a sketchbook this size could be done affordably with more expensive paper. It has 16 leaves or 32 pages. It's sewn with natural linen thread.
It's a nice size at 7.75 high and 5.5inches wide, and roughly a half inch thick. I haven't priced it yet, but I used a sewing that was quick to hold down the labor cost. I'm thinking it would be around $30.
I have a stack more covers that I've finished and are just ready for sewing. All I need to do is cut paper and fill it up.