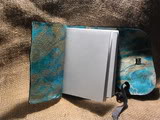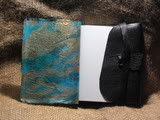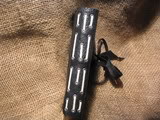 I just put this journal up on eBay
It is a 9 signature 180 page journal with light blue strathmore paper. The spine is reinforced with tyvek and I used eyelets to reinforce the station along the holes. I used my typical envelope flap and thong for the closure. I used an alternating long stitch forthe spine. The sewing is done in natural linen.
The leather is black and pebbly textured. I used a lightweight hand made marbled paper for the inside. The leather is soft and wonderfully textured.
If Iwere to put this up on the website it would be priced in the $24 to $29 range.
Check itout on eBay