I have a couple of journals ending today. One is a large 6×9 200 page journal with a distressed leather cover. It's here:
Here's a pic of the large journal: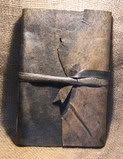 I also have a small really reddish brown colored journal done today. It's a very cool texture and the color on the screen isn't right. I had such issues getting a decent shot of it. It's here:
And here's a pic of the small reddish brown journal that is much less red in person: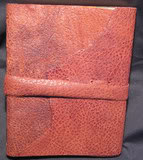 After that I have a couple more auctions ending soon.