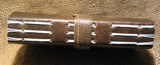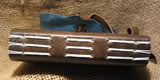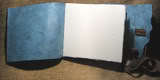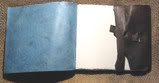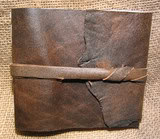 I'm pretty excited about this sketchbook. It's perfect landscape size, but also can be used verticle and I like it a lot. I'm sad that the lady whom I orginally bought the paper for backed out- leaving me with 30 sheets of very expensive Cold Press paper- my favorite but most people like hot press in their journals. (With good reason, though I love CP it IS hard to write on!)
The stats!:
5″hX5.5w
24 papges of Fabriano Artistico Antique white MouldMade cotton rag paper
140lb paper
Long stitch with end wrapping or "false headbands"
Natural linen thread
Backed with handmade Lama Li paper in pale blue
Dark Distressed Chestnut Brown Sheep hide cover
It's a fantastic little sketchbook/journal and I plan on making something similar for myself for when I travel to Maine at the end of this month. It is also very similar to a journal that I'm making for another special order- the dimensions of hers wil be a little different, but it will be much the same- but with 100 pages.