So This is the set up I used before I started to makea lot of books and needed a larger paper cutter.
This is the Fiskars photo trimmer, it trims 2 to 5 sheets at a time and utilizes a fixed blade in a little plastic handle.
I start by lining my trimmer with a line on my cutting mat, if you line it up right you can usethe lines on your cutting mat to cut at specific sizes. I then use duct tape or in this case packing tape to hold the trimmer in place. I put them along the right hand edge.

After I taped the trimmer down I measured from the cutter to where the paper would end on the left side of the trimmer. I butted a piece of waste cardboard to where the paper would end and taped it down also using packing tape. I always tape on the outter most corners and top and bottom ofhte waste card. If the card isn't securely taped down it will lift and allow paper to slide beneath it. Making it useless as a jig/cutting guide.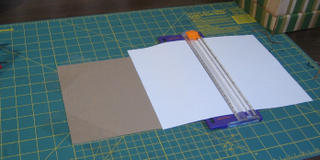 After it's taped down you can cut away. I always did a few test cuts to check and makesure my measurements were correct, nothing worse than cutting aream of paper only to find out at the last mintue you didn't measure right.