I've been playing around/ experimenting [which sounds more professional? ;)] with using a similar station pattern to see what i can get out of it in terms of different links, angles and what not. These journals are some of those experimental books. i have one more I haven't finished stitching yet but we'll see where they go. So far so good. These books are also listed on etsy.com rather than ebay. They were a lot more work than some of my journals and thus I can't bare to part with them for possibly nothing.
I had a special order that required bright red thread. So I ordered a whole spool and thus lots of goth looking red and black journals will follow. Kidding, Red and black is a classic combination and it looks good. So here is a black pebbly textured cover, sheep hide with red irish linen stitchin in a patterned long stitch with linking. Simple but sweet. There are 200 pages of tan granite colored paper inside. It has a nice texture, smooth enough to use a fountain pen but rough enough to accept pencil with less than normal smudging. It's a nice warm paper, which I thought might not match the cover but what the hell, I'd rather have nice paper than something not as nice, plus this paper is wonderfully writable.
Black Leather with Red Stitching
The journal below is a marigold yellow, more like a light buckskin colored deer hide. It's been adhered to an orange marbled paper. The strap was cut extra thick and extra long. This leather is incredibly soft, it feels like nubuck. I've lucked out on leather lately, the last 5 hides or so that I've bought have been decadent and wonderful. Simply amazing. I bought 2 of these hides and man am I happy I did.
The MOST incredible thing about this journal is that it has 200 pages of Southworth 100% cotton paper. The paper is crisp smooth and heavy weighing in at 28lbs per sheet. It has a slight tooth that is perfect for drawing with pencil over all a decadent sheet.
Enough talk some pictures: LInk toetsy below: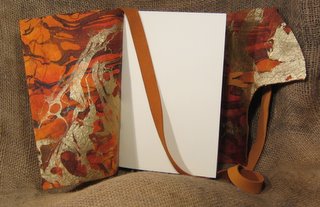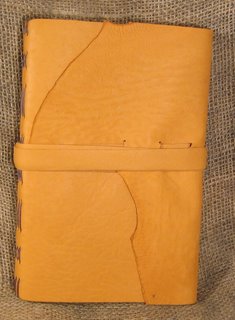 You can get this journal here: Golden Deer Hide JOurnal