I've been sketching things out in my hedgies as thoughts come to me, which lately has been pretty often. I've also been asked about my planning and design process. 65% of it is all in my head and the other 35% happens on paper; in a hedgie I keep in my back pocket 90% of the time. I have 2 hedgies I keep with me all the time, one has a refillable leather cover and I make my own refills for it with stiff paper covers. (I'm not making these for people right now, I don't have the workshop space, I could make a cover but it will be as expensive as a regular journal.) The other has a soft sheep hide cover in distressed finish. ONe in my pocket and one in my bag. The one I keep in my pocket has some inane notes about work so that if need be I can cover up my occasional sketching at work with work notes.(It happens.) TheDayJob usualy kills my creative urges but sometimes it happens. I am prepared. I would suggest to any creative to keep a "work" notebook with a few pages devoted to work and the majority devoted to creative musings.
So I thougth I'd share some pages from my hedgies here for your enjoyment.
These next 2 were sketched out while on my break at work. I added the kraft paper model at home.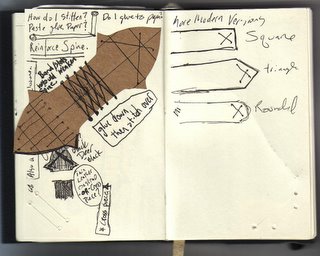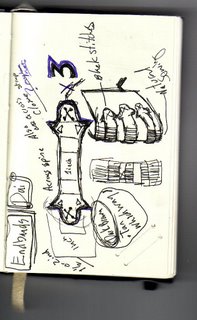 The next item is a 2 page spread of designs for 2 different books. One is the initial idea for Bart's Large franken journal. If you head back to the entry on that journal you'l see that I scraped some of the ideas and kept many. ON the right hand side fo the spread are my notes for Roberta's journal. She wanted a reproduction of another journal I made- so glued to the page is a print out ofthe spine of the other journal. She gave me more paper than the other person so I ended up adding more signatures to her and it ended up much more fat than the previous journal. I wasn't all that impressed with the leather. While it was nice- stiff and beautiful the edges were too soft and I had to add to the edges of the spine some filler. Which helped to make the edges stiff, but I don't like to add artifical means and it irked me. I'd love to know how this jorunal is behaving (So Roverta if you read email me and let me know!)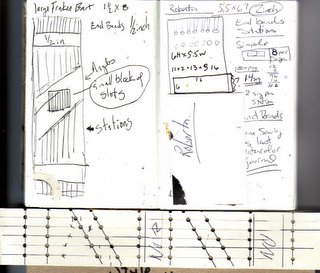 The final page is also a spread. It's from a research trip I took to Barnes and Noble. I always head in, wander about, read a few books then buy a coffee and takea few notes on the journals and notebooks they have for sale. I sometimes come away with nothing but during this trip I came home with about 5 pages of notes. There were many thigns to see. the left hand side is about bookmarks and the right about closures, for which I found many ideas.