I've been working on the new book style since last night and I've got it worked out pretty decently. I cut a cover sheet and score it (that's important) then glue down a scrap of leather to the spine area. I use a nice thick PVA, so it doesn't soak into the leather too much so causes minimal shrinking and bending of the card cover. I then fold the excess from the card in toward the middle; attach elastic then glue in some folded accordion pleats to form the envelope. I clamped all that over night. Today I marked the spine and cut slots or punched holes. I did a series of 4 sets of stations so that I could fit 200 pages in the 1-inch spine. However 160 pages would be enough too.
I chose a series of simple sewings for these spines, I like how all but one came out. I used thick chunky hemp, un-waxed and let them fray a bit, I like the look.
Essentially everything in these books is recycled or re-used in some way. The cardboard came from the bakery at work, where it's used to protect delicate cookies in shipment. The Leather comes from my scrap pile. The inner paper comes from the recycle heap at work. Often large companies change their advertising branding and assorted things like this paper either get used in-house to print memos and things on or they get tossed into the recycle heap. In the case of this paper a 2000 sheet ream was tossed into the recycle heap because it had words printed on one side, top and bottom and no one wanted to take the chance that things would be printed over the words. So I was able to bring it home chop off the words and the company logo and I was left with paper with a series of pale green printed borders and one side plain. It's awesome paper so I'm pretty excited about it working out for this project. I get 3 covers from each sheet of card and I can cut sheets until I get bored. I'll be mixing these up and putting them on etsy and eBay. They will be in limited quantities; I'll run out of cover material quickly! I'm not sure about pricing though. I'll have to figure it out in terms of how long they take me to make.
I think the card is a nice compliment to the rough leather I used. I'll be experimenting with other leathers as time goes on, but so far these 3 were great.
Here they are: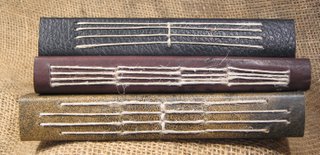 I'll post links to eBay and etsy later.