I've been pretty busy in the studio the last few days, which explains my lack of posting. I've had several special orders in which I've finished and mailed out.
I've been having a few experiments with patterns on the spines of the books; I'm trying to think of them as cross-stitching or as needlepoint. It's an interesting experiment, because I'm limited to a top to bottom arrangement and angles. I'm going to continue to play with it but I've had some very interesting results so far. Some of them are listed below. Some are simply the recent custom orders I've been working on.

This is simply a simple 200 page, 10 signature, black thread on golden deer hide with linking.

This is the first of my experimenting with the cross stitchor crewl work style of sewing. It's 200 pages and 10 signatures, natural thread, you can see int eh center where I skipped stations on some of the signatures. i think it adds a lot of dimension tot eh spine.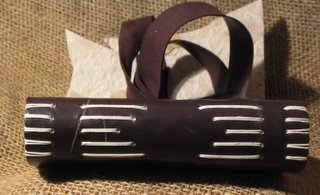 This is also some of the patterning along the spine. All I did here was to change where I placed that stations.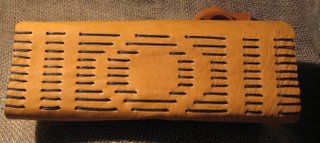 This is perhaps one of the most intricate designs I've sewn thus far, the aditional stations in the center added a ton of time to the sewing process, not to mention tht it's a fat 400 page journal in the 6×9 inch size. It took over an hour of timeto sew. It's listed on etsy here.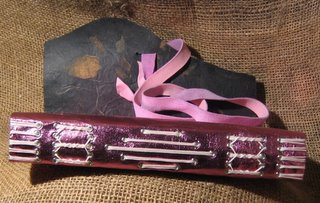 Ah pink. While I don't personally like pink many do, and here is another pink journal. It's a copy of the scarlett journal, per the request of a customer.