It's time I posted some pics here about my planner. You could term this a moleskine hack, or a love affair. I'm not sure which it is. All I know is that as my DayJob became more and more stressful I forgot more and more of the stuff I needed to do and complete through the day. It also started to permeate into my studio life and my personal life. Suddenly I was forgetting to pick up eggs, zip lock baggies and milk after work. At work I would forget to place important orders and would screw up simple things.
I started to make lists, it worked until I lost the list or didn't refer to it. So that helped for a while but it didn't help with the shambles that my studio was becoming or the important little long term things I had to complete wit my DayJob. It was falling short of my needs. I knew I needed a planner of some sort, but they never worked well for me Plus I hated to turn pages and not use the paper. Being a treehugger at heart it killed me to not use the full page. I have also tried the Palm PDA. It was a heavy and expensive address book, that never had juice when I needed it.
I'm fascinated by the GTD systems. I also like the idea of the Hipster PDA but can't get into carrying loose card in my pocket. I lose them. (read above) I discovered PigPogPDA.com some time ago. The idea of it worked for me. It wasn't rigid and didn't have any particular date tied to it. It us a full page for ideas and working out projects. I decided that I would adapt this system to my needs.
I tie dates to each of my entries, I don't need to be so specific about time and all that but if some thing is time sensitive than it gets a RED entry and a time written into the entry. I use post-it flags to really draw my attention to something. These tend to go onto things I'm avoiding or putting off, or meetings that I need to remember. I have a stack of post-it bookmarkers in the front so that I flag things like the grocery list, and put it on the front of the notebook. Here's a pic of front pages: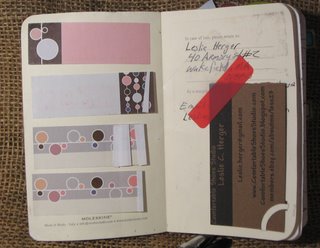 The set up is such:
The cover holds a PenSlip, and post it notes on the inside page.
The end sheet gets to hold my address, contact info and business cards. I use a fiskars corner photo punch to make the slots for my biz cards.
The backside of the end sheet gets a pasted in calendar, indispensable.
The next page gets a short print out of my most used business contacts for work.
The next page is for personal contacts.
The next page holds interesting websites and other information I don't want to lose.
The next 2 pages get set up like a PigPog PDA, I draw a line on the fore-edge of each page, about ½ inch in. The left page is for my DayJob and the right for at related and studio items. I tend to go through the Studio page far faster than the DayJob page. So if I find that I'm filling the Studio page fast, I fill it in and then use what's left of the DayJob page. Only I use a regular opening moleskine (volant in this case), 2 pens, and 2 open pages for doodles and ideas that don't need a time line.
Here are the planner pages, one finished and one in progress:
The 2 pages after that are what I call IDEA pages. It includes doodles for spine designs, new ideas for penslips, mortgage crap and other odd information that I need to know but doesn't need a date and time for completion, or will need to be referenced at some point.
After filling the PigPog area, I move to the net 2 pages. I find that I pretty much equally fill the 4 pages and I'm ready for the next 4 pages. I leave the pages blank in the notebook so that if I have an idea that takes up more space have room for it, no need to cramp my style.
I find that thus far it has really helped me think out ideas- mortgage, work and studio, and also to follow through on many ideas. I forget less of the smaller things that are needed for life to run smoothly.
I've found it works best if I sit down every morning and think of the things that I think I need to do and write them down. Then at the end of the night I do the same, review everything and then write down what I needed to do that I forgot or that I think I need to do in the next day.
I'm using a moleskine Volant that I happened to find on my last trip to charrette. I love when places clear out old back stock and aren't sure what something is or isn't. I've tried a few things to make my own and I plan on doing so after finish my Volants. This was just a really faster way for me to try this out and see if it works. I've got a tack of paper already cut to make my own. And replicate the waterproofed nature of the Volant cover I have some old ad signs from the store that have a study vinyl coating on them that will make perfect little covers. I can't wait to try them out.