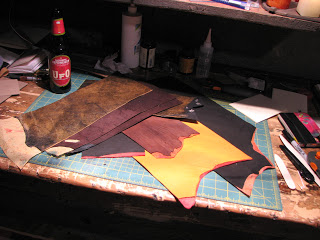 Here's what I've been working on the last few days. A giant stack of journals. I think there are 11 or so here. I've also cut covers for a half dozen 400 page 6x9inch journals and 5 hedgehogs. I was super productive in the studio. (BTW the Raspberry UFO in the left is a very tasty beer and I highly recomend it.)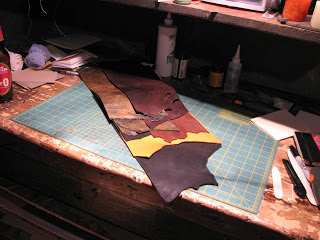 Here are 8 of the above covers all trimmed and ready for their spines to be cut.


Here are all the spines cut and ready for sewing.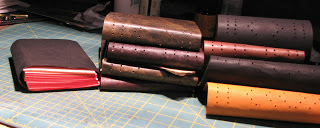 The journal on the left here with red edges is a special order. Sort of experimental or me. He asked for red edges on the paper and it was/is possible with a little extra work, think it's worth the time for a very special look to the journals. I used Higgins waterproof ink which I purchased at a new art supply store here in town NEver Say Never Ink. Check them out, the prices, what few I checked out appeared reasonable and the guy behind the counter seemed nice. Also had I known their website has a coupon for 15% off the price of anything in the store except for gallery work. Anyway, I'll head back in for other inks as I rely like the technique.