These little jotters are for the magpies out there!
For these I used acid free scrapbooking paper, in a nice textured variety that was too thin to be used as a cover on it's own so I laminated it to a stiff black cardstock. I let the covers dry for a few days under weights and then stacked the covers with ivory granite Southworth paper. I ran the stack through my sewing machine. I used heavy quilting cotton poly blend thread in ecru and white thread inside.
Each stack made 2 notebooks.
After pulling them off the sewing machine I folded the pages and cover, and then trimmed the fore- edges and head and tail. It was quite a process. Each stack made 2 books. These took a little extra work in comparison to the other jotters I make but I think they turned out quite well. So Shiney and pretty.
They each have 60 pages and are 3.5X5.5 inches. I didn't round my corners.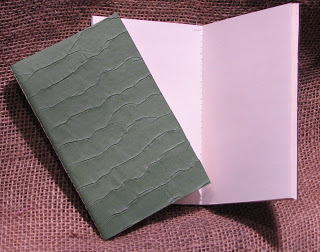 The green jotter above is on eBay here.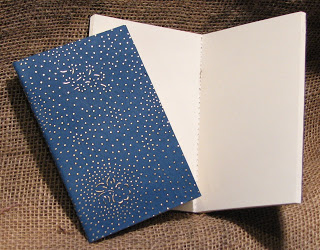 The above JOtter and the one below are on etsy here.