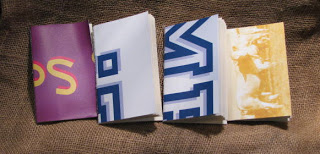 Having worked in retail for many years I know that having your stock sit anywhere for a long period of time is not only frustrating but it means it's time for a sale. My books don't go bad like bananas but I htink it's time for s spring cleaning sale- I have a drawer fullof etsy items that I need to clean out to make room for new journals and notebooks- I need to have an empty storage area to be sparked to create new interesting items.
So here's the break down:
Jotters regularly $4.99 $1 off now $3.99 a set
Hedgehogs regularly $19.99 $1 off now $18.99 each
Hedgehogs regularly $29.99 $5 off now $24.99 each
Naughty Bits Journals regularly $2.99 $1 off now $1.99
Recycled Journals regularly $14.99 $5 off now $9.99
Large Leather Journals regularly $99.99$10 off now $89.99
Those are some great deals. I'll post links to the various etsy areas of my shop a little latter today- be patient I have a ton of stuff up there and it's going to take me a few hours to edit everything!