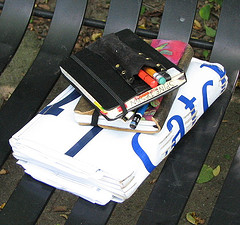 My 3 notebooks
Originally uploaded by lessherger.

I carry these 3 notebooks with me everywhere. The large one is my work notebooks, on the weekends it sits at home. But the other 2 they are always in a man bag of some sort and with me almost everywhere. The top notebooks is a moleskine pockets gridded with a PenSlip in black leather and antiqued brass eyelets. I carries 2 pencils, and it used to carry my Space Pen until someone stole it off my desk.
the second is a hedgehog covered in distressed sheep hide filled with cardstock pages. I use it for ideas and notes about products and possible art. I also sketch out some spine designs in it.