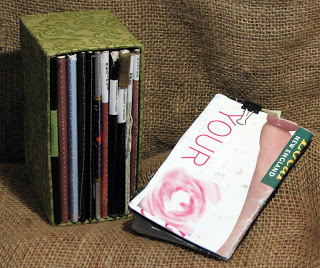 I've wanted to write a post about my favorite notebook of all time: the Jotter. I used the dimensions of the Moleskine Cahier and adapted it to work for me. I eschew the pocket in the back, use only 48 pages (depending on thickness), don't perforate any pages and use whatever cover material strikes my fancy. They are easy to make either by hand or with a sewing machine. They are also super durable.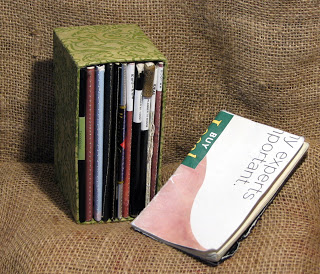 Where my other notebooks are pretty and contain a lot of my ideas my Jotters are my filter and my workhorse. Almost everything goes into these little beauties first, and then gets translated to my larger books. This is the spot my rough ideas for posts start, quick sketches for product ideas with brief descriptions, notes for work, grocery lists and yes, my to do lists.
They are a containment device, an idea capture, a funnel and a filter all in one. Because they are so easy for me to make I have no qualms about crossing out entire pages, filling up the pages with UPCs from work, or jotting down my hair brained schemes or funny quotes from friends. At this point everyone I know is accustomed to my whipping out my note book at a moments notice to take a note, jot down a phone number or copy down a to do list.
Theoretically they could be tossed out after I'm done with them but I can't bear to part with them. There is so much RAW information contained within that I decided to keep them all. I used to have them in a rather untidy stack on the edge of my desk. (Who knows when I'm going to need to refer to mortgage information, or refer to my raw website plans to see if they translated well.) I knocked the stack over a few time and figured I could build myself something to store them all, so I did. I made myself a little decorative slipcase. Using binder's board I built 4 sides and a base just tall enough to fit the jotters snuggly. It holds about a dozen, give or take what I've shoved inside. Now the notebooks sit on my shelf proudly, contained and within easy reach.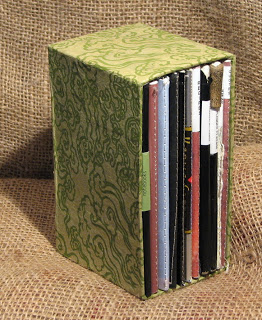 I've organized them oldest to the left and most recent to the right. I have 2 I refer to on a regular basis- the one for recipes and the one for quotes. When I finish a notebook I get out the label maker and apply to the thin spine a label of what is in it and it's date range. I keep an assortment of new notebooks in the slipcase to keep everything square and looking neat. This way I can also pull out a new one whenever I need it.
As for the jotters, about a month into being stored and carried in my back hip pocket they get a little curved and a little beaten up. The paper along the spine gets a little worn but the sewing stays true. I've abused several of them, as have my friends and coworkers and man do they stay strong.
I set them up much the same way I used to set up my Volants- I apply a series of post it flags in the front, a small stack of post its and a mini 1/8 binder clip for anything that I might want to cart around but not glue into the pages. I carry an assortment of business cards (mine and others), coupons and little snippets in the back. I"ve given up on the PigPog style organization with my new job. I don't need to have anything that structured, the new job is structured enough. But I DO organize it thusly: work info starts on the back page and goes forward, while all other information starts at the front. My current to do list and shopping list gets a little post it tab and the rest of the book is a catchall. Far more useful this way for my current position than the other styles I've tried in the past.