So here are some instructions for the matchbook notebooks. I used all recycled materials but you could use whatever you would like. I think they would look particularly attractive with some decorative papers that are available.
For my 2.5×3 inch pad of paper, I used a strip of cardstock that was 2.75 inches wide and 8 inches long. Depending on what you have around you could used longer paper and wider paper.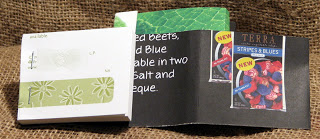 To start this notebook out. place your stack of paper right side to right side of the cover. Press in your staples. I used a 1/4 inch stack of paper and a heavy duty stapler and 2 staples, You could do this with one staple through the center.
IN the picture above you can clearly see the score marks that allow the cover to fold around and cover the staples. I scored about 1/2 inch up from the staples. I then folded on that score and wrapped the cover around to the back of the notebook.

As you wrap the cover around to the back press it into place. The pressure from your fingers will cause it to crease around the block of paper.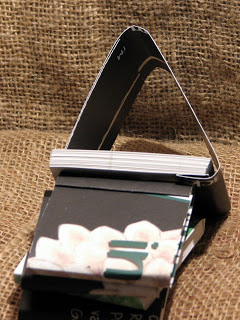 Now flip the stack over. You'll be looking at the right side of your paper and the inside of your cover, At the top part of your pad, score a line for the cover to fold up and around the block to make the cover. I then scored again 1/4 inch (the thickness of my pad) above that score. Fold the cover up and over your pad. You'll have a lot of overhang, I folded and glued my overhang to the cover.