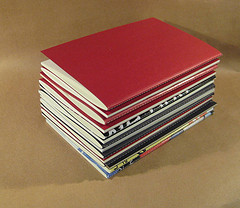 large sized jotters all of them
Originally uploaded by lessherger
It's been a long weekend here in my studio. I started churning out books on Friday and here it is sunday and I'm listing a bunch of them. I've been stitching up books while I watch TV too. SO I've gotten a massive amountof books made this week. This stack of large jotters is just one example.
I happened onto some log books that were being tossed into the recycle bin at work. I pulled them out and they were covered int eh most gorgeous stiff red coated coverstock. Super thick and printed with a leather like pattern. I reversed them and put the printed side inside and the flat side on the outside of the books. the cardstock is super thick. I can't wait to use one. I made a mistake on one and get to keep it. 🙂 Anyway these are listed on my ArtFire shop here.