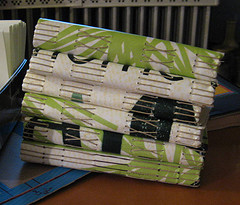 REcycled Sign Journal Stack
Originally uploaded by lessherger
Not a great pic of these journals but it gives you an idea. I've been working on these all week. Monday I stitched the covers. tuesday I punched the holes and folded the paper. Wednesday I trimmed the paper. and The rest of the week I stitched them all together. this sort of piece work makes these seem to go really fast.
Most of these are on my ArtFire Shop here.