My fingers aren't working well so I'll probably edit this in the afternoon, so bear with me for the day…
First off head over to my online buddy's site The Artistic Biker. He's started his first art journal this weekend and he's off to a fantastic start. He's got his daughter started too. Way to go on starting kids off with a lifetime habit that is both educational and very good for emotional well being. I'm sure she'll look at her journals when an adult with fond memories of her father. I htink I was around 10 or so when I was given my first journal. I was one of those orange red locking 5&10 (five and dime) 5 year Diaries. I wasn't artistic in it at all, just wrote my pre-teen angst. Infact I didn't start to journal on a daily basis until I was 12. Which is when I filled the little journals and bought a 6×9 college ruled spiral bound notebook. I decorated the cover with a collage and over the next year filled it with dreadful teen angst. I have all the journals I've ever written. I'm missing 1 from my college years but over all they are all here, somewhere in my home. I digress.
This weekend I created what I'm calling a basic journal. 128 pages of great cardstock, smythe sewn, and a simple cover made of board and decorative papers. they measure 5×8 inches and 1 fat inch thick. The cover is soft and flexible but not too too soft. the cost of them is low, but they are great quality. I've priced them at $12. Find them here on my artfire shop.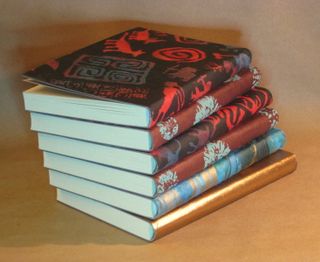 Some Artfire news. I'm stoked that they are offering a holiday season free-for-all. All members can list unlimited items for the holiday season. They stay up until January1st, 2010. No fees, no gimmicks no catches. Sell stuff for free and hold onto all that cash you'd be spending on fees. Your saving $36 on the verified subscription price. As a way to pass on all the savings I'm offing a $2 coupon code for all  the reader's of my blog, enter PASSITON at checkout.