ScribblSheets popped up in most of my social media feeds and I admit I was quite taken with the pretty edges. I reached out to the company and requested a copy for review, I'm really glad they said yes. Shipping was delayed due to the current state of the USPS, but wasn't as bad as some of the other things I've ordered recently. The journal was packaged in a bubble mailer and within that a crisp cellophane wrapper.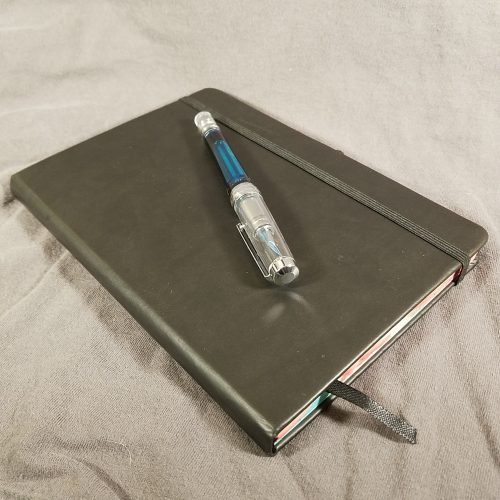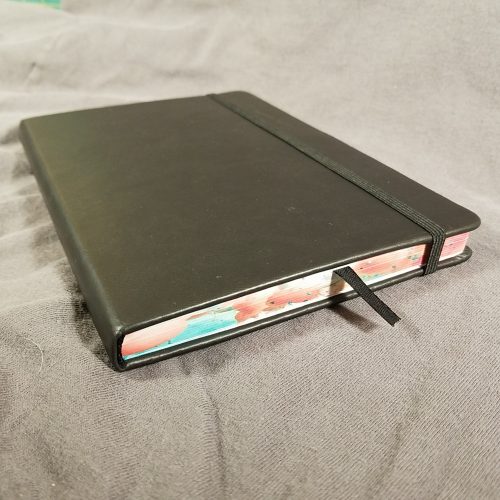 At first glance the ScribblSheets Orange Opal Edge journal looks like a standard moleskine style journal, and in many ways it is. It measures 8.25×5.75 inches or 21x14cm also known as A5. It includes a sturdy elastic and a generously long narrow ribbon. The ribbon arrives heat sealed but I hit mine with a lighter just to get that seal a bit extra.
The covers are black vinyl or what everyone is calling vegan leather these days, and I won't rant on the disingenuous nature of the idea of vegan leather. It's plastic, and vinyl at that. It's a nice vinyl and feels grippy and slightly squishy. On the lower back cover the ScribblSheets logo is debossed. It's small and tastefully done.
The back cover sports an elastic loop for a pen, it's large enough to accommodate a fountain pen, mine is currently holding my Wing Sung 3013. But It'll hold a Preppy snuggly. It will not hold a pencil. I find that it's a tad narrow and my pen flops around a bit, but in my Lihit Lab Bag in Bag it's fine.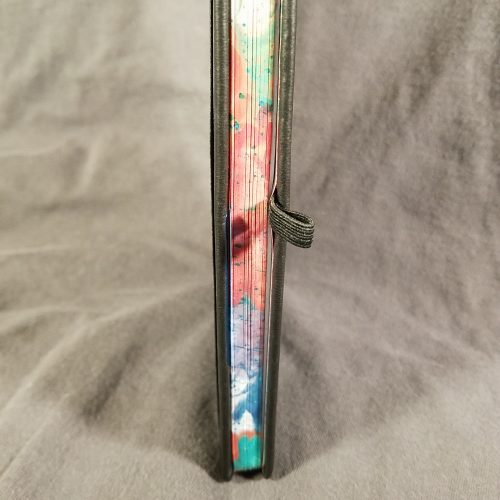 The inside back cover lacks a pocket, but I added a little slash pocket of my own. Inside there aren't any markings at all. No logos, no square or lines to write your name or address. I used a ruler and added mine own in pencil then cleaned it up. Easy. There aren't any page numbers either.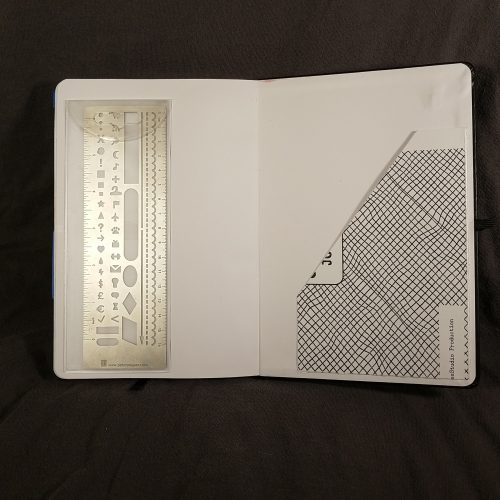 The grid is perfect. It's the palest grey imaginable, so it completely disappears behind your writing no matter the color. I love it. At 5mm it's a perfect distance for my writing. Each page has 40×28 dots per page. It's a good number for a bullet journal- enough spots for a monthly log and more than enough for a day's task list. My Peter Pauper ruler works perfectly with this grid size.
The paper is amazing with pencil, it's got just the right amount of tooth for an HB like the Musgrave Harvest Pro or even the firm core of the Blackwing Eras. I also really like it with ballpoint and gel inks.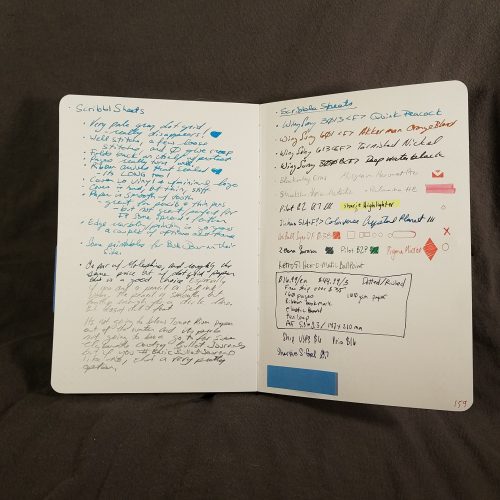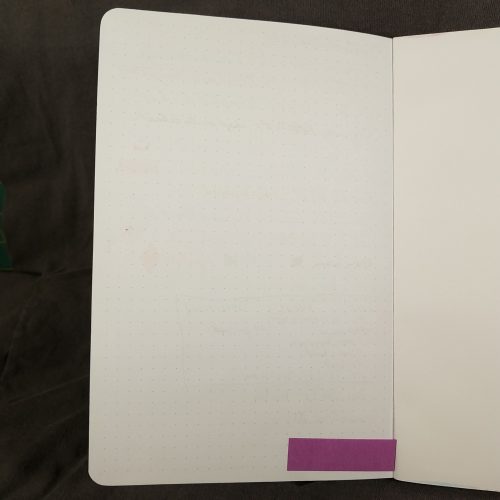 The paper does okay with finer nibs and well behaved fountain pen inks. You'll be able to see in the images some long fibery feathering that reminds me of the old moleskine paper. But then it does fine with other inks and nibs. Generally, thus far I've been sticking to my Wing Sung 3013 loaded with Shaeffer Skrip Peacock Blue. It has been doing really well with this ink.
Now, let's talk about the Orange Opal edge on this journal. It's incredibly pretty. I'm not sure how they get the edge colored, I'm assuming that it is some sort of printing process, what ever it is it's great. The colors are lovely and soften as the journal is opened. I really love the pattern and how it looks. It's a nice touch on a nice journal.
Inside there are 160 pages stitched in using the Smythe (the same as the moleskine) style. They lay flat and the pages stay open. I had a few loose stitches in the start of my journal, but it didn't impact my use. I had absolutely no glue creep between signatures or at the stitches. The block of the journal is affixed to the covers well. Like most journals the spine is stiff at first but then opens flat and is flexible.
Overall I really like the ScribblSheets Orange Opal Edge Journal. With 160 pages I'm not looking at more than 3 or 4 months use before I have to start a new journal, but I like starting a new journal. At $16.99 it's not cheap but the pretty edge is a nice design element, and while the insides are sturdy and useful, that edge makes this journal stand out. It's a pretty element that might seem a little frivolous at first, but it's an understated design element that only the keen observer of your bullet journal will notice, but I notice every time I open up the journal. I like that.
This isn't going to be your fountain pen journal, but the journal you use on the go with a pencil or gel pen, maybe even a Bic Cristal.