Cognitive surplus designated this a notebook but it functions quite well as a journal.

The nitty gritty:
7×9 inches
Hardcover, with a waterproof coating
192 pages of 80 gsm paper
Pale gray ruling, graph on the left, lines on right; available in different ruling online
Fountain pen friendly paper, with medium or smaller nibs
Designed in Portland, OR made in China
Lengthy gray ribbon page marker.
$18.95 at Bob Slate in Cambridge MA, and in their online shop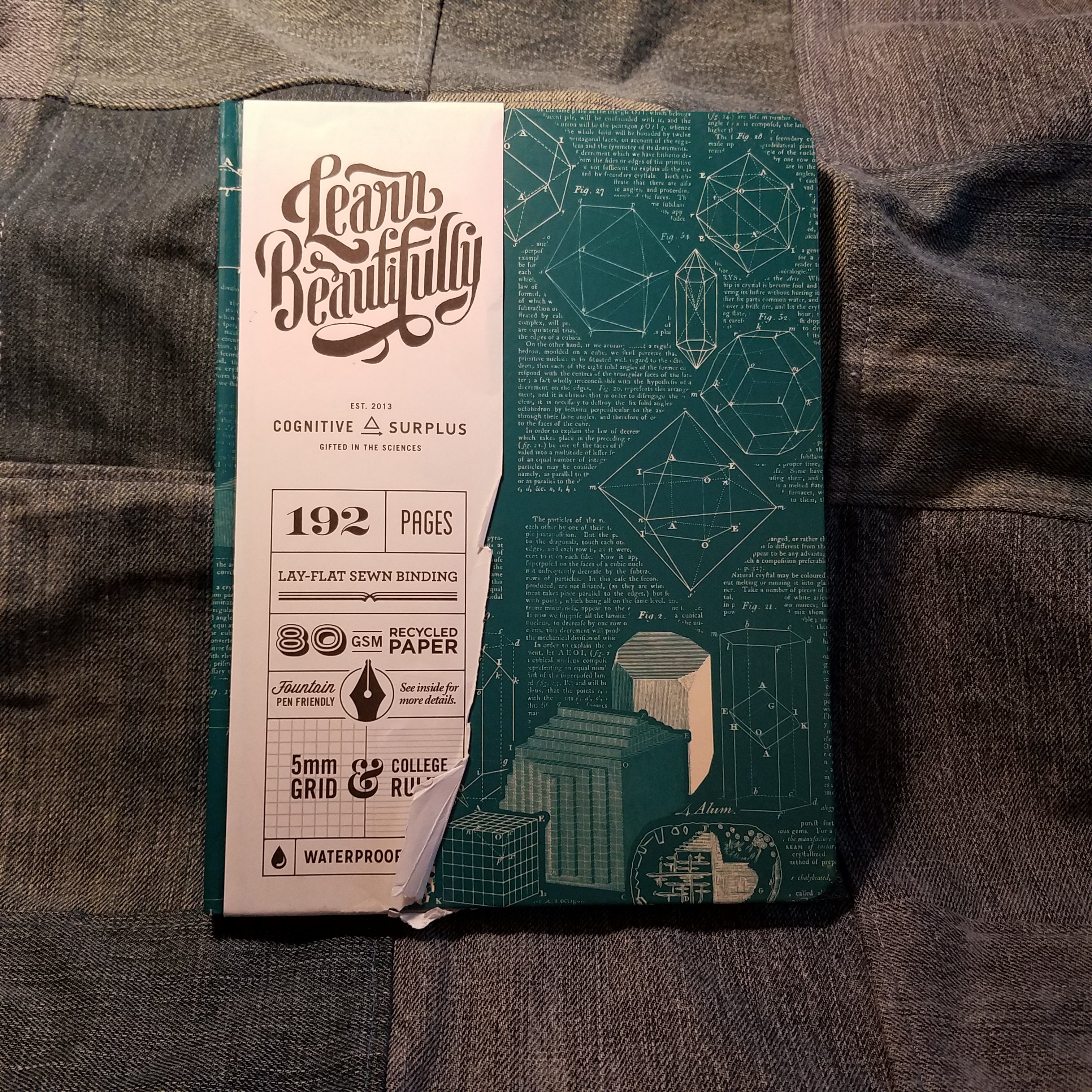 I picked up the Crystallization cover because it has geometric shapes on a dark teal background. They have many other cover options in many other colors in their online shop. I particularly like the Planetary Motion, Neurons, Models of the Universe, and Brain Anatomy. The designers at CS have a great sense of color and design. They mix old-timey scientific drawings with text and color in a way that I find particularly interesting.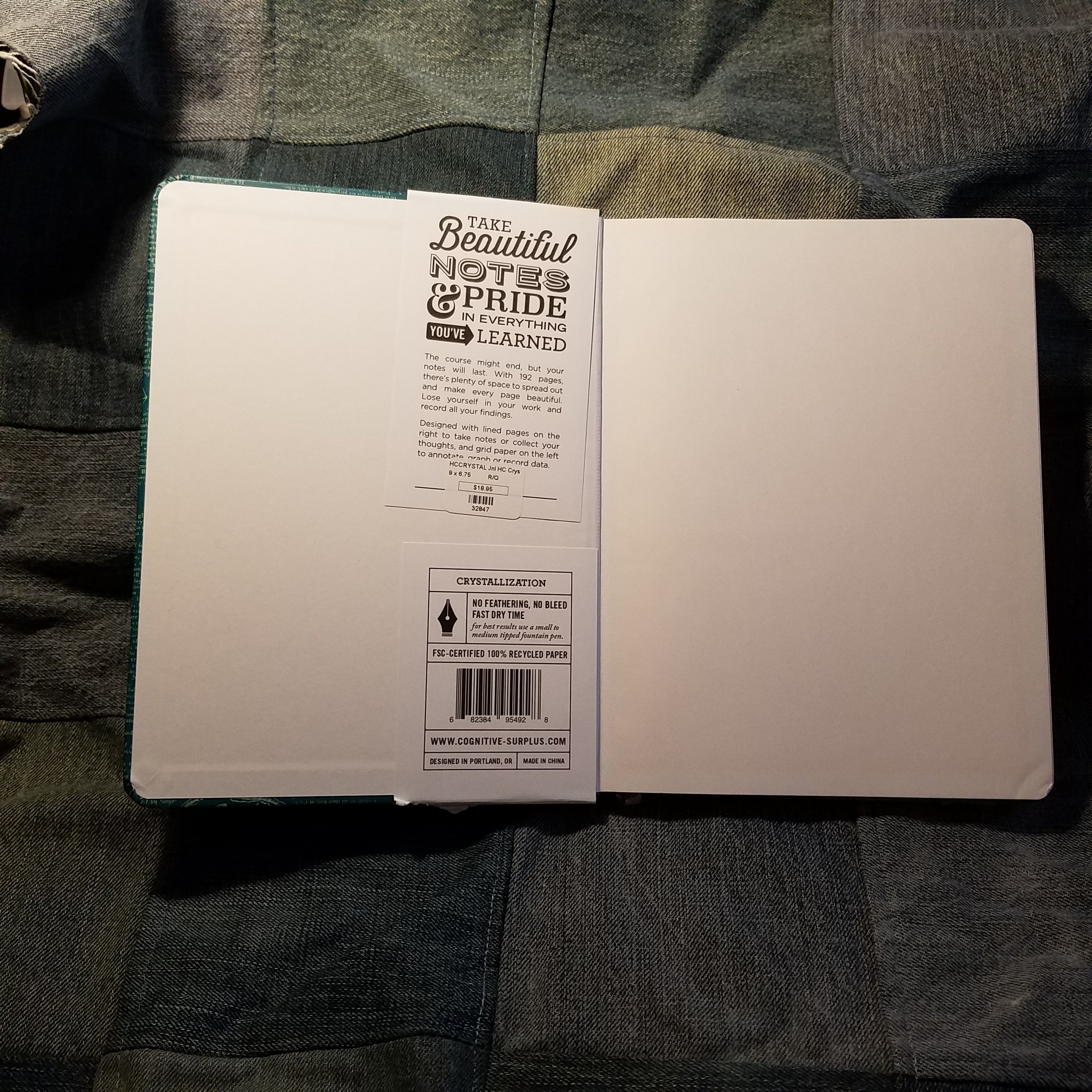 The cover is smooth and not quite slippery in hand. It has a satin finish that has gotten burnished with use and shows a few spots of shine as I've pulled it in and out of my bag. I've been a bit… rough, with it and it's showing the consequences. The burnishing is barely noticable.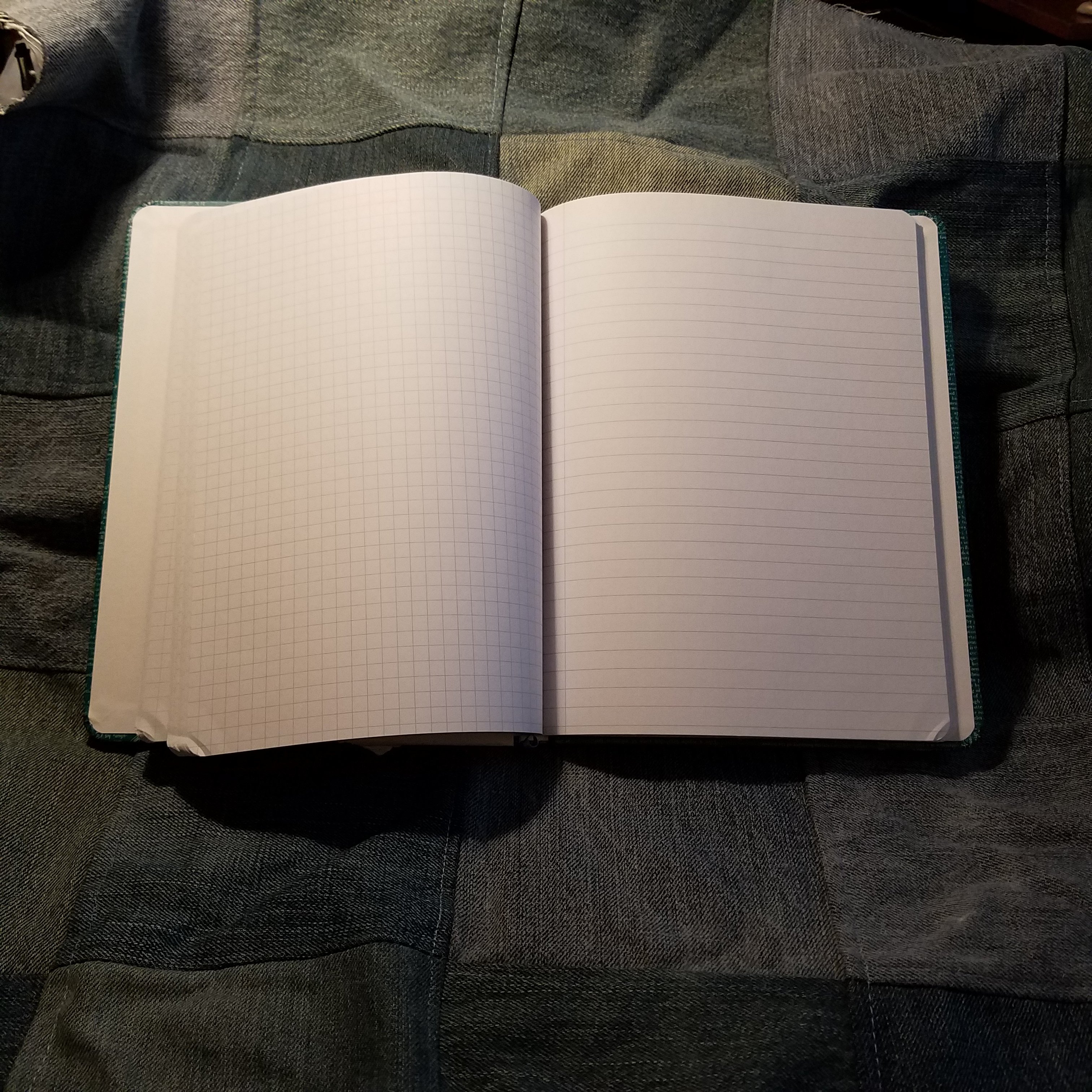 Inside I found the signatures of the book to be securely stitched and glued. I did not find any glue creep or loose stitching in my book. The block is cut cleanly and square. It is fitted into the cover well. The whole thing opens flat on desk or in hand. The covers are stiff and solid, allowing the book to be used for writing in hand. It even folds over onto itself well. Surprisingly well considering that the binding utilizes a piece of card across the spine, a practice which I find usually interferes. IN this case it is done well enough that it doesn't interfere at all.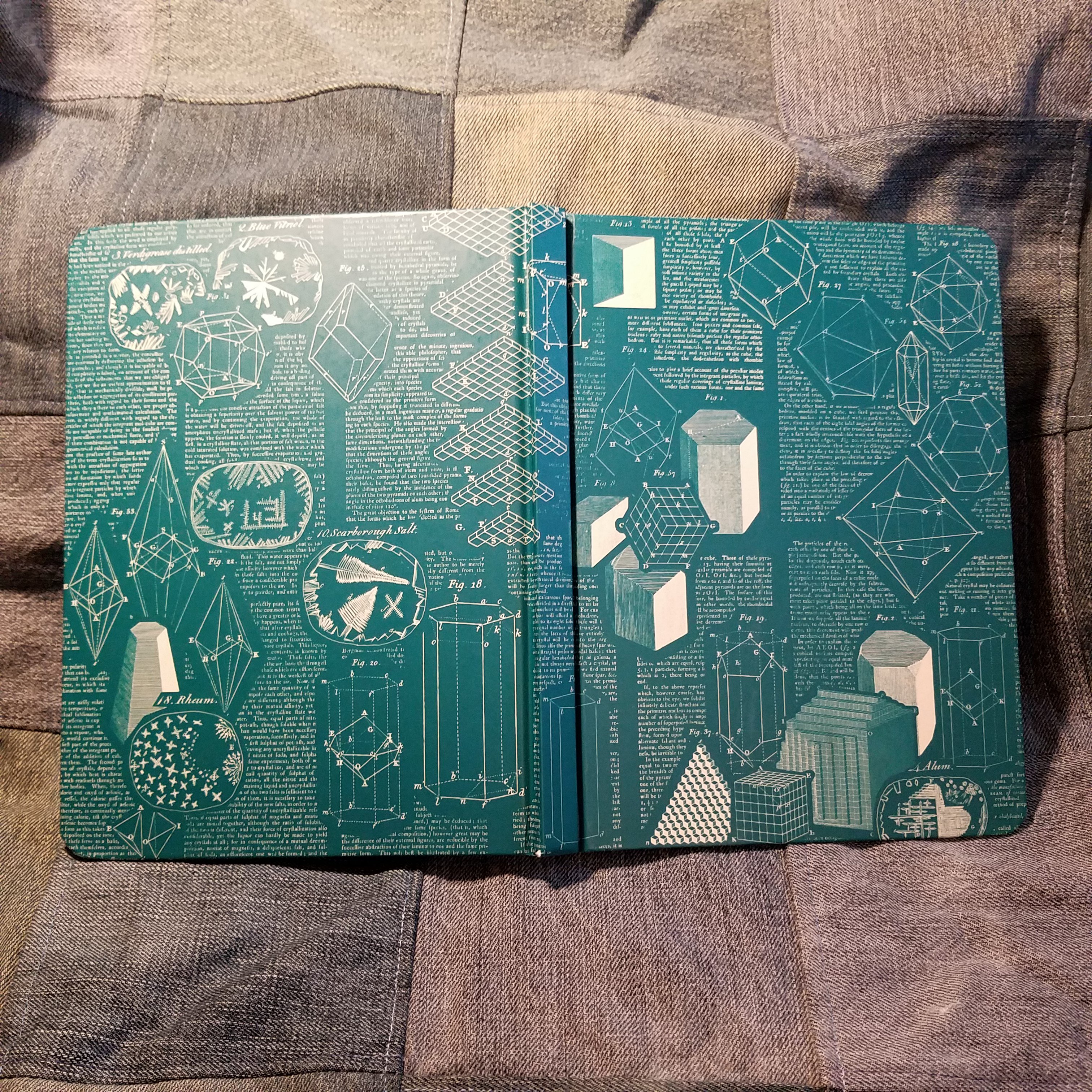 The paper is decently smooth with most of my finer nibbed pens. I only noticed feathering with ink that has general issues with bleed through, the majority of my inks were well behaved and looked great. Inks that sheen exhibited a great deal of sheen. Glittery inks glittered. I did not note any ink spread. Nib size is true on this paper. All other inks performed well on this paper- grl, rollerball, and ballpoint were all fabulous.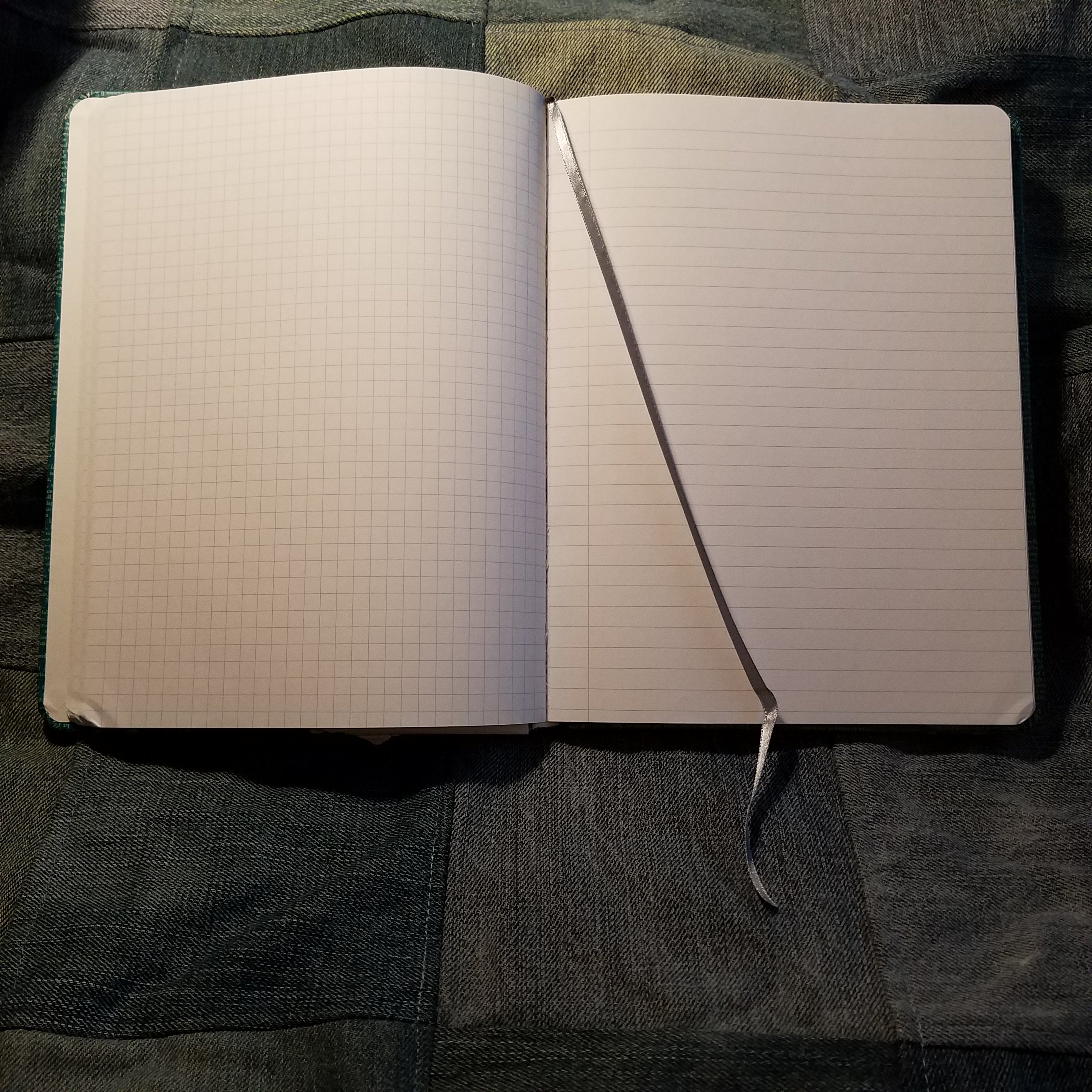 The paper also has excellent tooth for pencils. It's at a great amount for even softer darker pencils. I found that my soft dark pencils held a point quite well. My harder pencils also performed well on this paper. They put down a decent amount of lead to the page and smudging is minimal. Pencil felt superb to me on this paper.

Overall, I love the designs on the covers and the paper is great. The size works well for notes or journaling. It's just a smidge smaller than a composition notebook so fits in most backpacks and messenger bags with ease. the cover is sturdy and allows for writing in hand. At $18.95 these aren't cheap, but they are a solid choice for a journaling splurge or gifting to your favorite stationery fan.

No affiliate links today. I bought this book with my own cash money and no one influenced my review. But hey if Cognitive Surplus wanted to hit me up with review copies of their other books I'd be down to review the rest of their line. They have POCKET NOTEBOOKS with their colorfully printed covers!!!