Musgrave recently went through an upgrade to their web presence and added a few new pencils to their line up. One of these is the Tennessee Red. This upgrade included an upgraded website, and web presence in general. They hired a great marketing team to do this work for them, and really it has brought the formerly dated site and presence into a modern era, and even made their website usable! I'm happy to see a venerable American pencil brand embrace the future and make their products available for more people.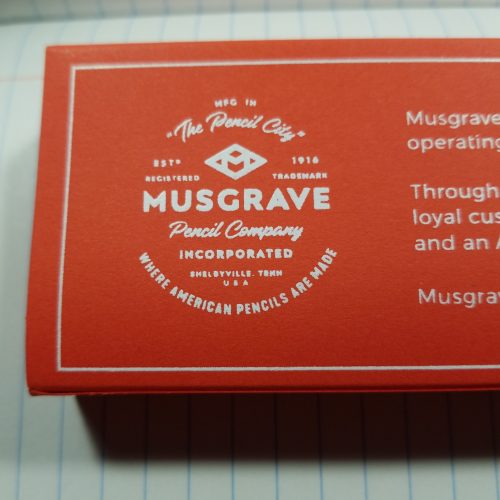 Let's talk about the Tennessee Red pencil. First, the presentation. WOW. Old Musgrave packaging consisted of a thin plastic bag that is heat sealed shut, one clear side and one white side. It looked and felt, well cheap. The packaging for the Tennessee Red is lovely. It's a sliding cardboard box that protects the pencils from banging about in shipping and looks stunning. The bright cherry red with white lettering is an immediate classic and eye catching. I love the sliding box and how it feels both retro and modern at the same time. Retro in that pencil packaging once looked like this and modern in that we haven't seen anything like this on the market in a long time. Sure Blackwing used cleave for the Volumes but this is so simple and effective I can't help but to enjoy everything about this packaging.
Nestled in the box are a dozen lightly but glossy lacquered natural pencils. I wish they were raw wood, but I can't win every time. Even with the light lacquer you can smell the cedar as soon as you open the package. Once sharpened my whole office smelled of cedar. Amazing. The red imprint is perfect and sharp and has historic calls out with the little 3 star Tennessee logo and the new Musgrave logo. A golden ferrule holding a crisp white eraser completes the look. An added bonus is that the eraser? It works. Which has been a point of steady complaint over the years. They work well too.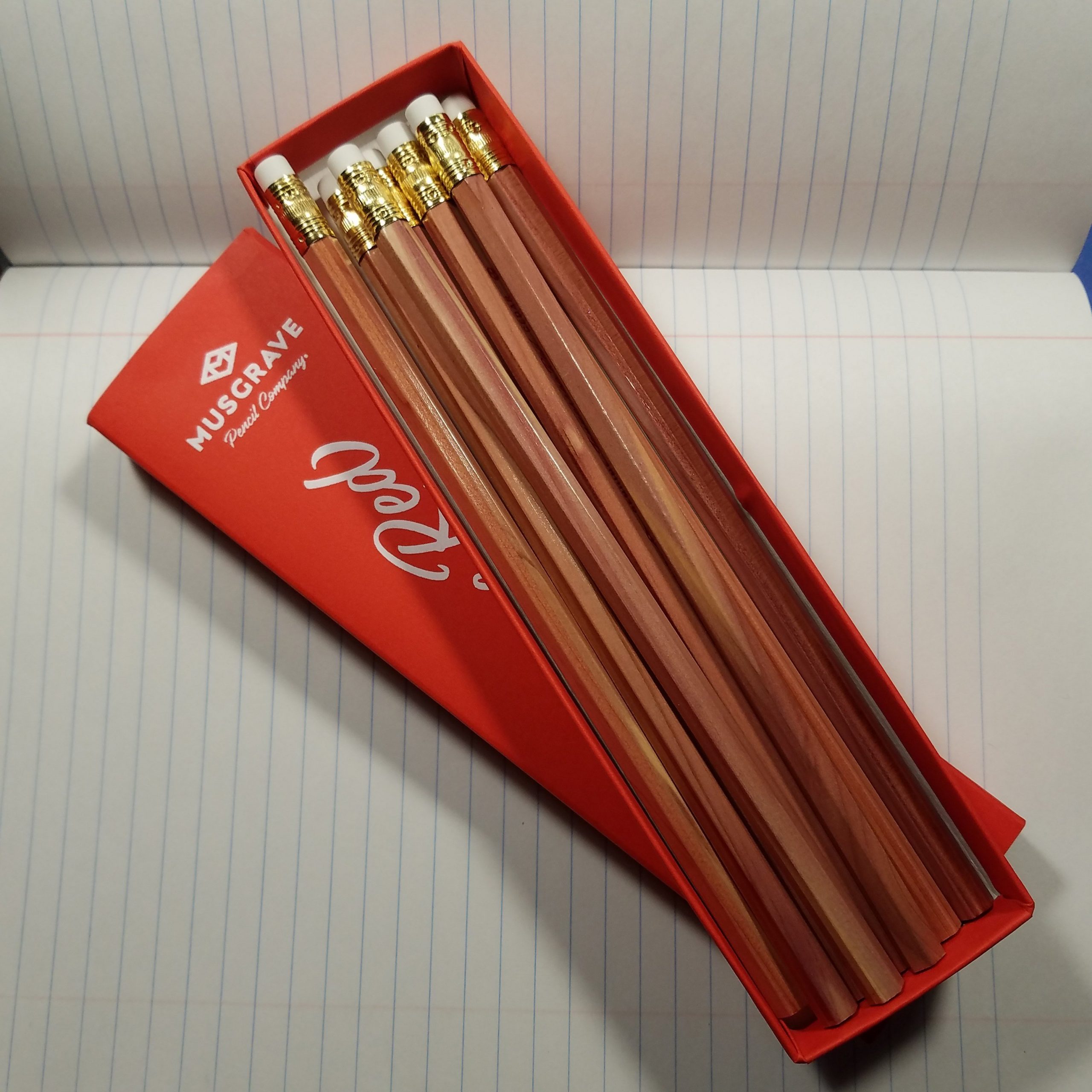 Musgrave has stepped up their pencil game.
The cedar is red cedar and delightfully fragrant. It reminds me of the slats of cedar you can buy for your closet to deter moths. It is a tad dense and my duller sharpeners seemed to struggle with it but my classroom friendly and Apsara hacked did really well. I immediately sharpened 4 of them. The hex is a traditional Musgrave sharp, and I really do wish they'd gone with a soft hex, because I don't love a sharp hex but there is so much to love about this pencil.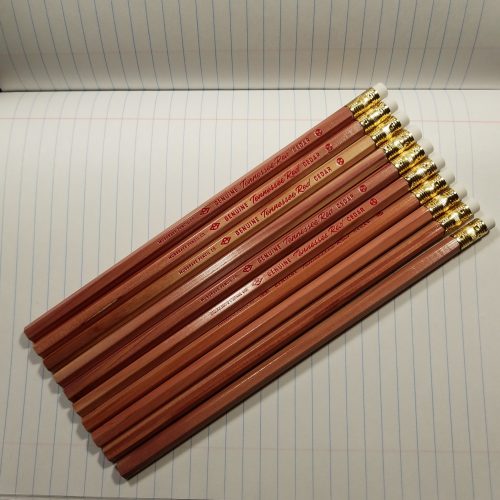 I suppose a review of these can't be made without mentioning the centered-ness of the cores. There are a few off center cores, only one or two of mine were badly off center. The rest were fine and in what I would think of as well within usability limits. More on this point in a minute. Let's talk about that delicious core. It's dark. It's smooth. With my long point sharpeners it's perfect. It's also great for sketching. I'd say this is a good multi use pencil, you can get some decent gradation out of it and as such wouldn't need to carry a full pencil case for writing or sketching.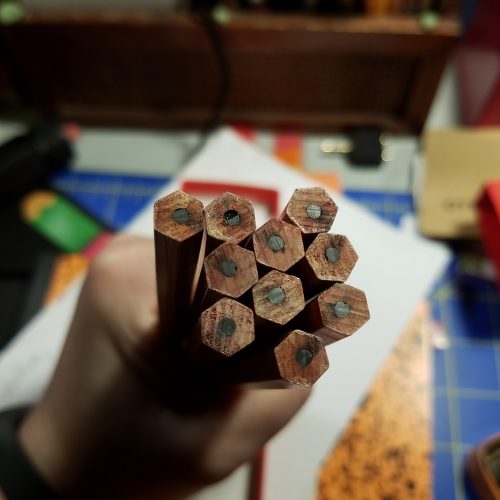 I love everything about these pencils, their imperfections in wood and centered-ness mean that I don't feel precious with them. I want to sharpen them up. At $9 a dozen they aren't cheap but they aren't $30 a box either. I don't feel guilt in chewing through these. These are pencil lover's pencils not pencils for collectors. I mean sure go ahead and buy some for your collection too, but buy a pack to use as well. The silky smooth graphite cased in fragrant cedar brings back pleasant childhood memories of back to school shopping and school. That Musgrave went with a usable eraser (though I rarely use the erasers on my pencils) is an added bonus. The red imprint paired with the gold ferule and white eraser with that luscious pink tan wood is pencil perfection. Sure they need to work on core centered-ness, but I for one will support Musgrave with another purchase (or two) of these pencils.
I'm late to reviewing these. Check out Johnny's review here and Anna's here and Deon's here.
Again this review is brought to you by supporters and readers of this blog who have headed to my Ko-Fi page and supported me one or two coffees at a time. The money gifted through coffee is used for some coffee but mostly buying more pens and pencils and stationery supplies to review. I appreciate each and every coffee purchased and gifted to me. I have the best readers!