I mention the KUM Masterpiece pretty often in my pencil reviews. With good reason too, it's a fantastic sharpener. Compared to the dramatic teasing of the Pollux from M+R, KUM did the roll out for the Masterpiece juuuust right. Initially it was only available in Germany then someone was able to do a group buy for a decent price. Finally, CWPE was able to get them in stock.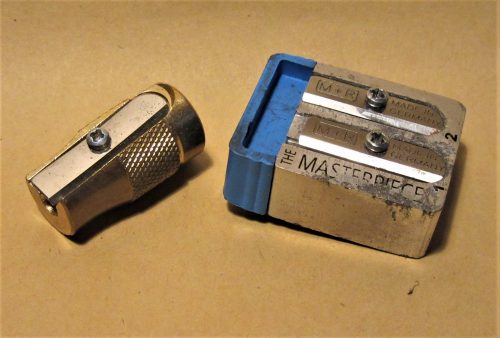 The Masterpiece is machined from a solid block of aluminum, possibly an alloy. With a sliding blue plastic stop for your lead. The stop also has a slot on the underside to hold 2 replacement blade, and arrives with 2 in the slot. The blades are standard sharpener blades. I use M+R blades that are available in 10-packs all over the place. The Masterpiece arrives swaddled in neoprene and in a hard plastic case. I've ditched my plastic and neoprene for a mini mint tin, but that matters not. It comes with a neat neoprene case for carting around in your bag in cushioned safety.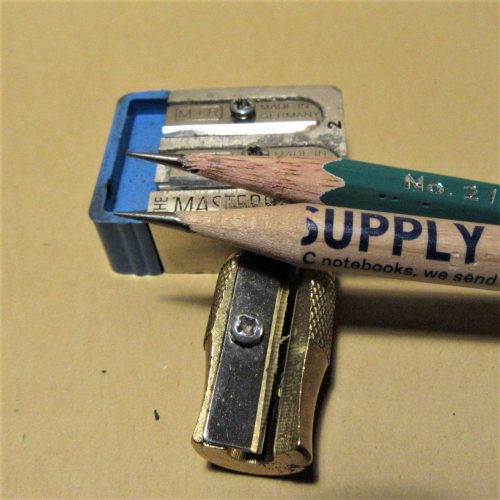 To use the Masterpiece you first sharpen the wood away in hole 1, which is on the left side of the sharpener. On a pencil with a well centered core it sharpens only the wood away. After you've shaved off the wood you slide the exposed lead into hole number 2 to the right, using a light touch it shaves off the graphite to a perfectly pointy long point. With practice you can learn to stop before you get a needlepoint hat snaps when you touch it to paper. I've found that I can usually touch up my point 2 or 3 times without sharpening the wood again.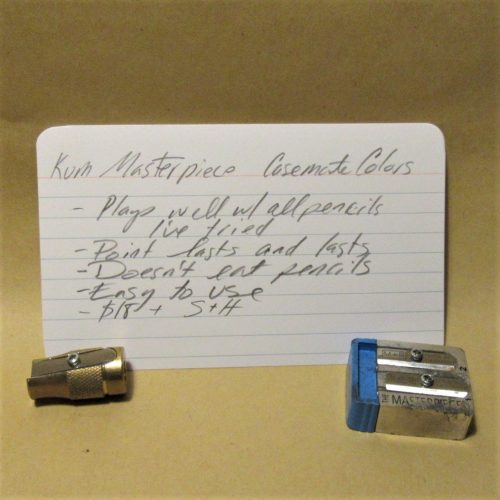 If the blade in hole 2 is dull it will take forever to get a point and occasionally the lead will snap off. I rotate my blades. So I'll recycled blade 1, moving the dull blade 2 to hole 1 and putting a fresh blade onto hole2. Generally the Masterpiece will sharpen any pencil any time without issue. It just works 99% of the time, unlike the Pollux. Replacement blades are cheap.
The Masterpiece is available for $18 plus shipping at CWPE and $15 at Pencil(dot)com plus rather high shipping. You can also get it at JetPens for $22, and free shipping at $25.
Pricing aside, the Masterpiece is ready to go the moment you get it and it just works and works. This thing is a workhorse of a sharpener. Sharpening everything from the cheapest Dixon no name to the priciest Blackwing volumes. I love it.

Most links are affiliate links and I get a small amount of pennies should you chose to make a purchase following my links. It's not a lot but it does help me to fund the hosting for the blog and buy new things to test and review. I bought the goods in this review with my own cash money and no one influenced my review.