So I'm a few days late and a few bucks short when it comes to this review. I've been sitting on it hoping my opinion would change. For the TL;DR crowd- it is pretty, if you like pretty, go ahead and buy them. If you want performance, go elsewhere.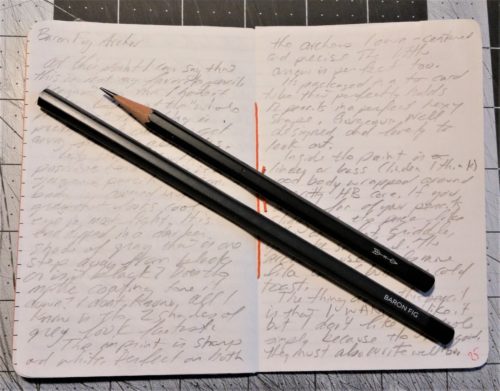 I picked up a few of these from a friend for a few bucks. I didn't want to spring for a 12-pack of pencils where the whispered undertone to all the reviews read, "scratchy." I sharpened one up and used it extensively in a cheap Staples comp notebook during NaNoWriMo. I've forced myself to use it on slick as teflon Tomoe River paper and silky smooth Maruman and Life notebook pages. I've even jotted a shopping list on the nondescript paper in Field Notes.
Ignoring the feeling of the point on paper, the looks of these pencils is gorgeous. The matte finished cool gray paint with a perfectly end dipped darker charcoal gray end is just pretty. It is simplistic and pretty. It works. The imprint is also minimalist- a simple Baron Fig on one flat, with a stylized arrow on the opposite- both in crisp perfectly imprinted white. The pencil is perfectly minimalistic in design. They are gorgeous to look at.
I sharpened mine in, gasp, the Carl Angel-5 with it's dangerously chewy teeth, which chomped into the soft linden wood body.  I suggest linden over bass based off scent. Linden smells like bay leaves to me and these pencils when freshly sharpened have that dusty odor of impending kitchen magic. Linden is ridiculously light weight. These pencils feel lighter than most pencils. I have not weighed them to be sure. the absence of a ferrule and eraser make them lighter but even compared to other pencils without ferrule and eraser they feel significantly lighter. I should weigh them and and take the subjective out of this review, but I'll leave this here to let you know they FEEL lighter than other pencils. I prefer a little bit of heft to my pencils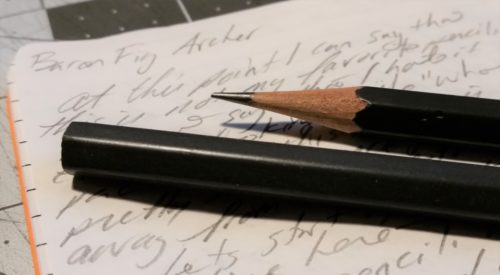 This brings me to the core of these pencils. Scratchy is an apt description of these pretty pretty pencils. I'd lean more toward gritty. They are the antithesis of smooth.  If you are a fan of pencil points gliding over your page like butter on a hot griddle, look elsewhere, these aren't the fix you are seeking.  They have a durable point that lasts for a good long time. I found myself getting pages in the comp book with the Archer. But it was an effort to write with- I had to force the graphite off the pencil. Compared to *gasp* my penny-per-pencil Casemates, these were a disappointment in use. Going back to kitchen based comparison- writing with these on most papers, even the glassy smooth Tomoe River, is like spreading chilled butter on cold toast- a gritty mess that is simply unpleasant.