I like gel ink. I want to use gel refills in all my pens, when possible. Unfortunately, many gel refills don't fit pens like the Baron Fig Squire and Click, or Parker Jotter. Either the tip portion is too thick or short, or the body of the refill is too thick for the body of the pen. Enter all the Parker style refills that use gel ink. Monteverde is just one option.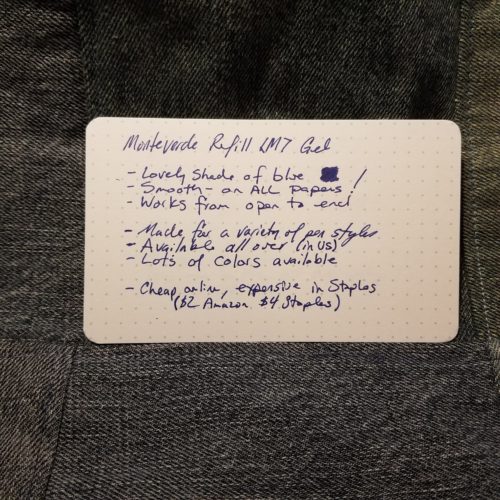 Monteverde refills are available just about everywhere from Staples to Walmart (online to Amazon and every fine stationery store. The prices seem to fluctuate wildly. I picked up a 2-pack in the clearance section for 50 cents, but normally a 2-pack is about $8 at my local Staples! I found 5-packs on Amazon from a variety of sellers for about $14. Clearly, online stores are the winner when it comes to offering up Monteverde refills.
The gel refills are available in a vast variety of colors, mine are blue. The next package I purchase will be blue-black, but they offer purple, green, red, teal, black etc… The blue is lovely. The gel ink is smooth on all the paper I've used, including the finest cheapest paper we use at work. The ink has flowed smoothly from the moment I took the little waxy blob off the tip to the point I drained the refill.  
These are great refills, but not the cheapest. They range from $2.80 to $4 per refill. To me the price is comparable to the regular Squire refills and they have the performance of gel ink on cheap paper which I've bloviated about before this post, but gel ink on the crap paper at work works better than liquid. End of story, these are a great refill and worth every penny to me. You won't be unhappy with a Monteverde P44 (Parker style) refill. Continue reading →