Baron Fig announced the clicky version of the squire last week. When I received the reviewer announcement I was excited- a click mechanism is my preferred pen point deployment method. I immediately asked BF to YES PLEASE SEND ONE!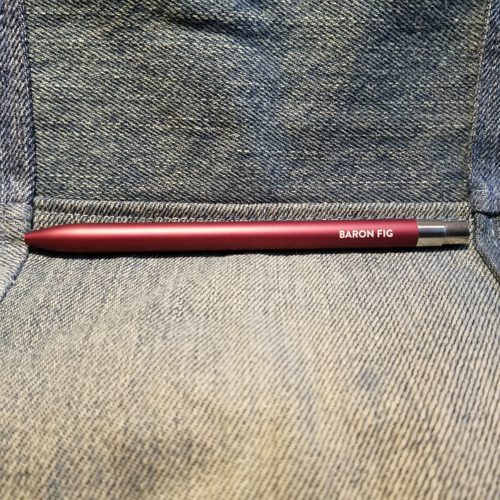 Mine is in the fig wine colorway. You can also get charcoal gray. The fig wine color is burgundy or maroon depending on your level of fancy. The anodized coating is really tough. I tested it by slipping it into my Nock Fodderstack XL pen pocket along with my MetalShop CT Twist Bullet Pencil. I carried it around like that for the week, sitting on the two as I was at work and around the house. Some aluminum transferred from the Twist bullet, but there were no scratches.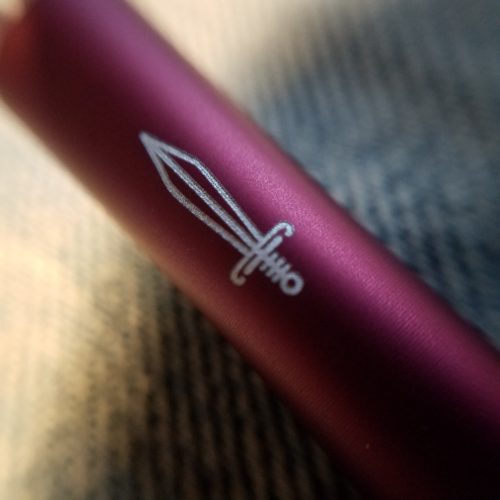 The most important difference between the Click and the standard Squire is that the Click is substantially smaller than the standard. It is narrower and lighter and weighted toward the click and slightly less balanced than the standard Squire. For smaller hands, the Click is a great pen. Inside it uses a standard Parker refill or the Schmidt Easy Flow 9000. If you are going to use a ballpoint refill this is a great refill. It's smooth and dark. I do wish it used the regular Squire refill but if I've gotta use a ballpoint the Schmidt Easy Flow 9000 is great.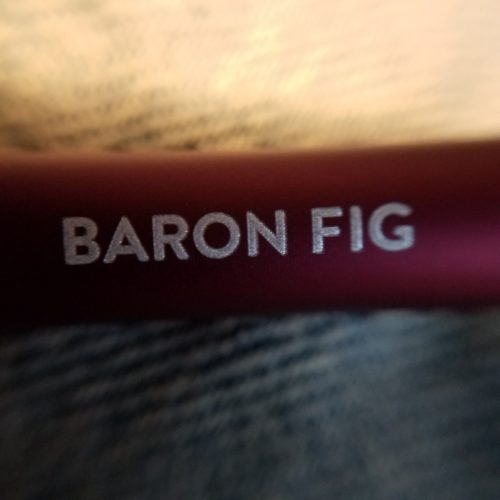 My least favorite part of this pen is the nock. I prefer a nock with a satisfying and notable click, this nock doesn't deliver that at all. If you like the Kara's Kustom nock, it's the same. It works really well and feels good, but doesn't give me the sound I want in a nock.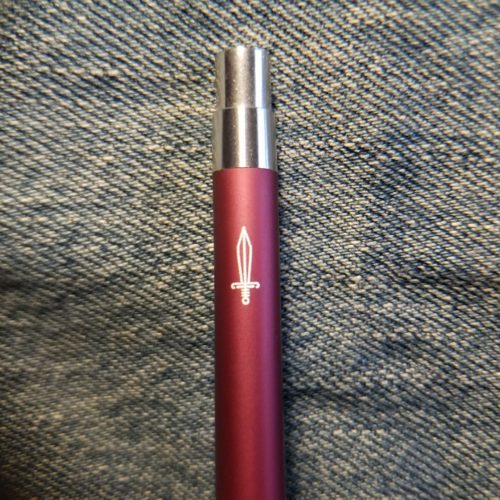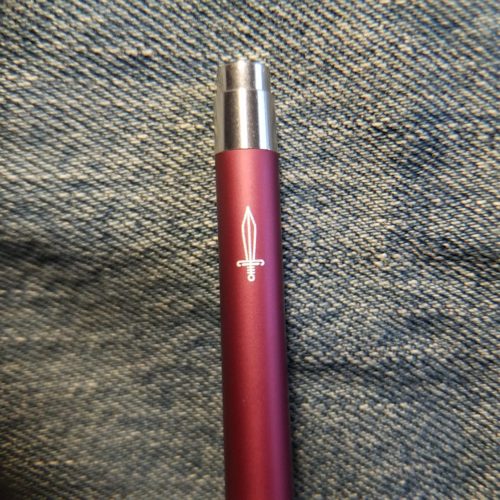 The Click would be made substantially better with the addition of a clip. The lack of clip means that I need to stash it into my Fodderstack XL or get one of the pen cases BF sells. (Or a Tofty printed clip.) If I don't get one of these options and it is loose in my pocket the point is deployed and well, the ballpoint is less messy, but still marks up my pocket and wallet.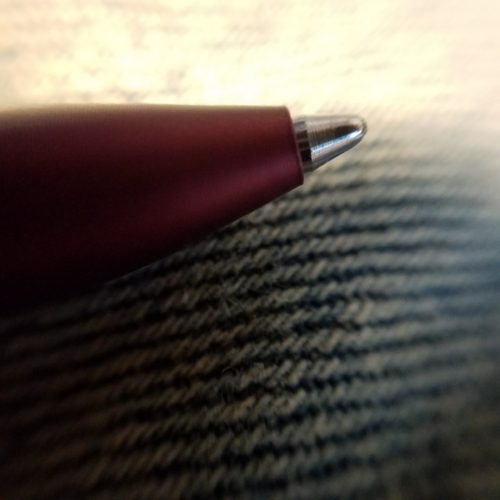 Overall, I like the Squire Click. Because it is smaller and lighter than the standard Squire I find that I can write with it for longer periods of time without hand fatigue. It did take a bit to become accustomed to the balance but now that I am, not an issue. The Click is a sturdy well made pen. It retails for $45.
Baron Fig provided me with the goods free of charge for the purposes of the review. I think I gave it a fair shake and a bit of good use. They didn't influence my opinions and the content of this review is my own.